Last year I started the tradition of a
Go ahead, click on the link, I know you wanna'.
Well, that shelf got hijacked for a Christmas project.
I've been buying little plastic vintage things for a few years,
and I finally had enough to fill the spaces.
The stuff is down on my craft counter,
waiting for the magical slot of time to appear
so I can complete the project.
Any hoo –
This Science project was started partly because through the years
I've developed a personal aversion
to reading a few pages and answering a few questions.
If the teacher is bored, the kids are bored.
The Abeka Science book is good,
but I needed to
Science.
But it really started when I was diagnosed with cancer
and Rebekahn was barely two years old.
For physical and mental health issues,
we began taking walks around the neighborhood,
watching ants,
smelling flowers,
picking up pine cones,
enjoying the wonderful world the Lord created,
and bringing home treasures.
I finally figured out an attractive way to display our precious finds.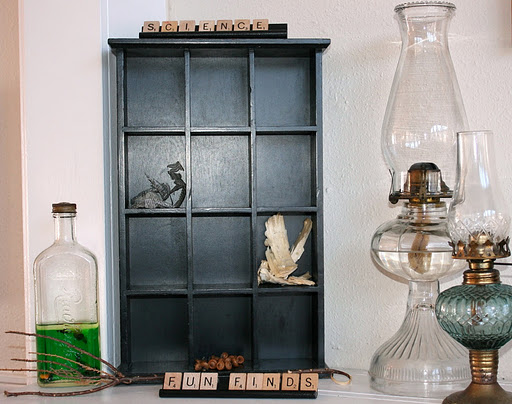 (click on pic to enlarge, if you wanna')
This year I found a new shelf at a garage sale.
The bottle on the left filled with green is a simple experiment,
the oil and water one, with a few random cute things floating
in the water for good measure.
Didja' know self proclaimed Science Geeks,
like to do Science projects during a play date?
Amazing.
Beautiful.
Children.
I got ambitious and spray painted the Scrabble tile holders black.
Yea, I'm matchy-matchy like that.
The dishes may be piled high, your feet may stick to my floor,
but I'm doing something irrelevant because I want it to match.
The cool wood chips are from a beaver.
During a nature walk on a trail along the river,
we found a tree a beaver was in the process of chopping down.
We brought home a few chewed slivers for a souvenir.
See this beauty?
Some snake left its outer layer on a rock in Montana
and I
had to
bring them both home.
Rebekah wasn't too happy about being "this" Science geeky,
she told me politely she prefers plant science.
But, the shelf awaits our adventure.
When the PNW brings us a sunbreak,
we'll grab a wicker basket,
maybe load up our
monkies
in the stroller,
and take off to
Science.
The shelf will temporarily display our treasures,
our minds will contain the knowledge,
but our hearts will always cherish the memories.