The home we live in  doesn't  have a school room, just a large open L-shaped room that serves as living room, dining room, sewing room, library, school room, and occasionally a bedroom.
When you add my sewing cabinet and all the STUFF you need to homeschool the room can get crowded and unattractive.
My first passion was to organize the supplies we use every day. We tried school boxes for each kid, but they never held all the supplies they each needed.
At first, each kid had their own crayons. Then, we had a huge box of community crayons.   It seemed easier to keep most school supplies in a community stash.
I had my heart set on an old, wooden portion of a library card catalogue, until I saw the prices.
I
The Lord found something that worked even better. I say the Lord because when I found this piece of furniture, it was an answer to prayer. Everytime I look at this piece, I am thankful for His provision.
Each drawer holds only one type of item. One drawer holds all my glues. Another holds all the tapes. Other items assigned a drawer are scissors, edging scissors, paints, rubber stamps, skinny markers, fat markers, coloring crayons, flashcards, pens and pencils, and dry erase markers.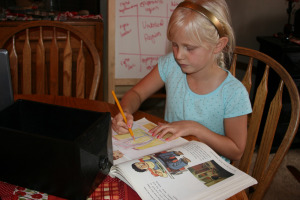 When we need colored pencils, we  put that drawer on the table. The dresser gets a lot of wear and tear, but since shabby chic is in style, I don't mind the paint wearing off the edges.
In 11 years, when I am done homeschooling, I'm pretty sure I can come up with a few other uses for this amazing piece of furniture.
But for now, the crayons aren't everywhere, they're in one of the little black drawers.
And I have a great reminder from Jehovah Jireh, My Provider, who provided something more importantthan a place to keep my  crayons. He provided salvation for my soul through His Son, the Lord Jesus.