Poor Princess Kate.
She went shopping after the baby was born and it was news. Wait, everything she does is news in England.
I went shopping last  week and nobody cared, except for the kids at home that were waiting for the toilet paper.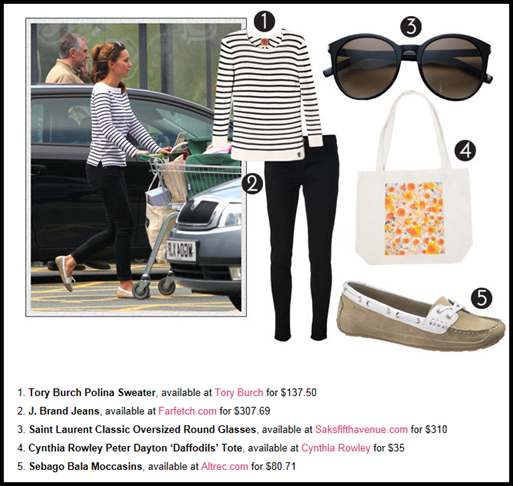 I found this on the GLAM blog and was very impressed with the identification and price information. Even if I could see the clothing labels, I wouldn't know what they meant.  I don't speak fashion.  But, I'm confident her Saks isn't the same as my "all you can fit in a sack for $3" at the thrift store.
Princess Kate spent $480.40 for one outfit, not including undergarments because, thankfully, the paparazzi couldn't get that close.
The only thing I've ever worn that cost that much is the scar on my neck from an expensive total thyroidectomy.
My mom raised six kids and had a passion to make sure we were always clean and stylish, even if our clothes weren't expensive or new to us.  An excellent seamstress with an amazing ability to create or re-create anything, she sewed, shopped, altered and mended her six kids through adulthood.
We always looked nice, accept when someone loudly exerted their free will and Mom allowed them bear the consequences of what they wore in public. Like the time one sister fussed until Mom brought her to the grocery store wearing one cowboy boot, one sandal, a dress over a pair of holey-kneed jeans (when holes weren't in style) and uncombed hair.   But I won't tell you which sister because she hated being the baby of the family and being teased. But I will tell you, she never dressed like that again.
Once Mom bought bright t-shirt material covered with the flags of the world on clearance and made matching t-shirts for the kids for vacation.  We were walking around feeling pretty spiffy when we overheard someone say to their friend, "Wow, those people must be rich."
One of our favorite pastimes was dressing up for an event, then calculating the cost of each outfit, just like they did for the Princess.   It was rarely over a few dollars.  The most expensive item was usually our unders, but maybe I shouldn't mention unmentionables on a Christian blog.
My Mom was a woman before her times.  She upcycled, recycled, crafted and created, but never gathered a following because the Internet wasn't invented yet.  If digital photo editing and Pinterest were available in the 70's, a post about getting presentable for Grandma Geneva's visit in 1973 would look something like the following: 
1.  Joel – Decked out in jeans from J.C. Penney's for $2.99 and crew-necked  t-shirt from Salvation Army for $.29 = $3.28.
2.  Melinda – Modeling a white polyester bodysuit and purple polyester pants created by her mother.  Size 24 purple pants  Salvation Army $.10 (remade for size 8slim) + plastic buckle from button jar + $.29 for snaps + $.49 for a yard of white polyester = $.88.
3. Allan – Sears Toughskin jeans, probably reinforced with canvas by mother because he was tougher than Toughskin jeans, cool red print pirate-sleeved shirt with extra pointy collars topped with a knitted sweater vest.  Jeans $4.99 + hand-me-down shirt and vest $.00  = $4.99.
4.  Angela – Hand-me-down red corduroy dress accented with eyelet cuffs and collar = $.00.
5.  Laurie – Hand-me-down hot pink mini-dress $.00 + adorned by Mom with braided trim $.30 =$.30.
6.  Lee – After winning the battle to have hair longer than his ears, was proudly wearing a green, tan and rust geometric patterned button-down shirt sewn by Mom with for $.98  +  lint-trapping olive green cords for $3.99 from Tempo Department Store = $4.97.
___________________________________
Children's clothing…………………………………………$14.42
A thrifty Mom who dressed you like a princess…..PRICELESS