As newlyweds, Scott and I cherished our new life together.
We loved being married,
we loved serving one another,
we loved serving the Lord together.
We were perfectly happy.
When an older man made the following comment,
I initially assumed my godly submissive attitude was showing.
"I hear you worship your husband…"
I was a tad confused, worship was for the Lord,
but I did adore my dear groom. I nodded hesitantly.
He continued, seemingly unaware of the doctrinal dilemna I was facing.
"…and you offer him burnt offerings every night."
I think the word that was going around was more about my
lack of culinary skills,
not my abundance of godly character.
It seems my daughter, Rebekah, is following after me in the "worship" department.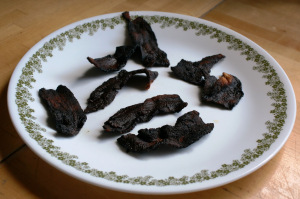 Only now, I am the object of her affection.
(All you Box T campers, please notice the plate!
I bought these in honor of Florence and Lewellyn!)
Burnt to a crisp.
Apparently, she turned the stove on, put the bacon in the pan,
then went to do something else.
Don't worry, I bought fire extinguishers this week.
Other people blog delicious recipes,
I blog about kitchen fires,
This sparked my memory.
Or should I say
My Amazing Grace in February 2006.
This is what happens when you turn the grill on high,
slap on some steaks,
and leave.
"Grace, do you know how to turn the grill on?"
"Yea."
"Grace, do you know how to grill steaks?"
"Yea, Mom, I watch Dad do it all the time."
This is what happens when you delegate,
then walk away.
Considering she is now an amazing cook,
who rarely grills, it was a worthy sacrifice.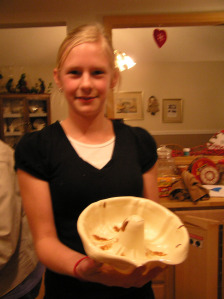 This is what happens when you put a microwave cake pan
in the oven.
Yea, a whole lot of
sacrificed in our home!
Exodus 29:25
You shall receive them back from their hands
and burn them on the altar as a burnt offering,
as a sweet aroma before the LORD.
It is an offering made by fire to the LORD.
When the children of Israel made offerings,
the Lord was interested in their hearts,
and the scent of true worship arose to the heavens.
With kids in the kitchen,
their heart to serve thrills me,
and as the scent of their endeavors reaches my nostrils,
I reach for the baking soda or fire extinguisher.