Some traditions need to be nixed.
Getting into my Jeep and finding an empty gas tank whenever I share my vehicle, is not a good tradition.
Having to refill all the toilet paper holders in the house (click on link to read about my amazing skillz) because I am the only one capable, is not a good tradition.
Knowing that the moment I put away the mop, someone will spill on the floor, is not a good tradition.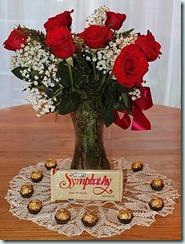 Flowers and chocolate for the first day of school? That's a good tradition.
Traffic was harsh and the hubbster was a little late coming home. When I heard my daughters' exclamations when he walked through the door, I knew Mr. P hadn't forgotten.
Know what I did?
I hid.
I crouched down beside our bed and tried not to giggle. Ya' know, I never was good at Hide and Go Seek. I'd find an awesome spot, then be so happy, I would giggle and snort myself into capture. Or I'd get lonely and want to be found so I'd have someone to talk to.
This time I didn't giggle. Mr. P came in and put something on the bed, called for me, and walked away. I grabbed one of the chocolate love offerings,
and ducked beside the bed again. It was quickly devoured, because I deserve it, being the mother of six kids and starting my 19th year of homeschooling.
When he came back in, he still couldn't find me.
To calm his fears, because I'm pretty sure he was ready to file a missing person's report, I rolled up my candy wrapper, and flicked it at his ear. When he finally found me, I felt a little silly. Isn't nearly 50 years old a little too old to be hiding?
Apparently not.
He thought I was cute. I think he's cute, too.
And that, my dear bloggy friends, is how we keep the marriage alive. As long as Mr. P keeps the tradition of buying chocolates and flowers, nobody gets hurt, except by flying candy wrappers.