I kinda' don't like to cook. I've been cooking as long as I can remember and I am a little battle weary. I used to do the homemade meals, homemade breads, quick breads, cookies, candies, jams, jellies, pickles, salsa, on and on and on. I had the huge garden. I cooked and canned with all the best of them in them in the Midwest.
Then, we moved to the West coast. Out here, we grow moss in our yards, have huge slugs and we have more critters in town to eat gardens than I had living in the farm country of North Dakota. We rented our first year so gardening was out.
Then, I got cancer. The recovery was very slow, over a year, as I learned to live with artificial hormones and finished treatment. We bought a house. I continued to recover. Dinner became a family workshop with everyone pitching in to try to keep our meals timely and healthy. I remember the kids victoriously celebrating when I made dinner for the first time all by myself. The younger kids NEVER remember that I USED to made things like lasagna, pizza, brownies and breakfast.
Then, I got lazy. Hey, once you've bought Stouffers, who wants to go to all the work to make lasagna? Once you know the number to three different pizza delivery places, who wants to make their own pizza?
Now, I am sick of my cooking. I've been reading cooking blogs long enough to inspire myself to get back into the Mommy mode of preparing new and interesting meals.
I had a nap today, so I was ready to tackle something simple. With a leftover cooked roast to warm up, all I needed to make was a new side dish.
A recipe from Ellie from Homecooking In Montana had been taunting my tasetbuds all weekend. Plus, it looked easy. I printed out the pages from her blog with her amazing photography and step by step directions.
I had to boil new potatoes until fork tender.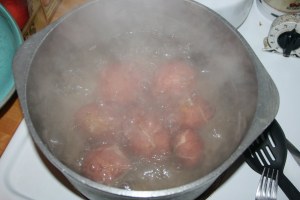 Sounded easy. I just wasn't sure how tender fork tender was. I overcooked them. Notice how close I left the plastic spoon to the burner. I'm amazed I didn't start it on fire. That happens a little too often around here.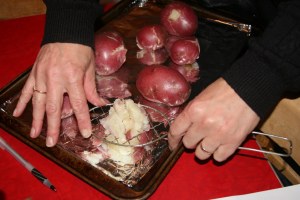 I was supposed to line my cookie sheet with parchment paper. I've never owned that in my life. I hoped aluminum foil would work.
I was supposed to crush the potatoes carefully. I couldn't find my potato masher. I couldn't even remember how many years it has been since I used it. Did I get rid of it when I started buying Potato Buds? Did the kids take it? If they did, do I want to know what they did with it?
I tried this other utinsel thing, I don't know what it is called, but I have had it for years and never use it. It just looks cool and old.
It didn't work. I had to mash the pieces back with my wrinkled fingers.
I tried again with not so much brute force. It still didn't work. I used Ellie's recommendation to use a napkin and press it down with your hand.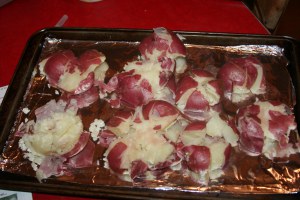 Notice the one in the front middle? I guess most people wouldn't have used a pink napkin, I did. I won't next time. I also smashed some of them harder than I should have. At this point, I had tears in my eyes. I felt like such a failure because I couldn't even boil potatoes correctly for this first step of the recipe. But, I rallied and pushed on.
.
I needed to mix olive oil and garlic clove for the next step. I had to sniff all the olive oils to find the one that was the freshest. I couldn't find garlic, so used some crushed garlic from a jar that I think is about a year old. While I was debating on how old garlic can be and still be edible, Beth came in and showed me where she hid the garlic she just bought. I threw out the first batch and made the oil and garlic again, fresh.
.
I topped the potoes with oil and garlic, parmeson cheese and broiled them for a few minutes. I added grated colby-jack and chives from my OWN garden to the top, returned them to the oven.
At this point I was a little amazed, but wondering if I could get the rest of the dinner on the table before the potatoes got cold. I have lost that art of multi-tasking in the kitchen.
.
Despite all my fumblings, Ellie's potatoes were a hit with my family. I didn't show them the picture of her potatoes, so they didn't know how inferior mine were.
.
Jon, the one who doesn't remember the Days When Mom Used to Cook, totally appreciated the dinner. With lip-smacking approval he gushed, "Mom, the potatoes are amazing! You should cook every night!"
.
Oh.
If I had know that would be the expectation, I would have opened the Potato Buds.
.
Now that you seen my fumblings, drop by Ellie's site and see some real cooking. She was inspiration enough to get me back in the kitchen.