Today is our 27th wedding anniversary.
I'm thankful for the years together, and blessed that we're still best friends and deeply in love. With the grace and strength from  the Lord, we're experiencing the marriage we purposed years ago to have.
People who don't know us may  think  our marriage is happy because our life has been easy. The exact opposite has been true. We approached the financial problems, parenting, health issues, many moves, and job challenges with the goal of drawing closer together instead of further apart.
It wasn't just a goal or a glib platitude; we fought for this. When our marriage was tossed into the storm, we clung to each other and the Lord.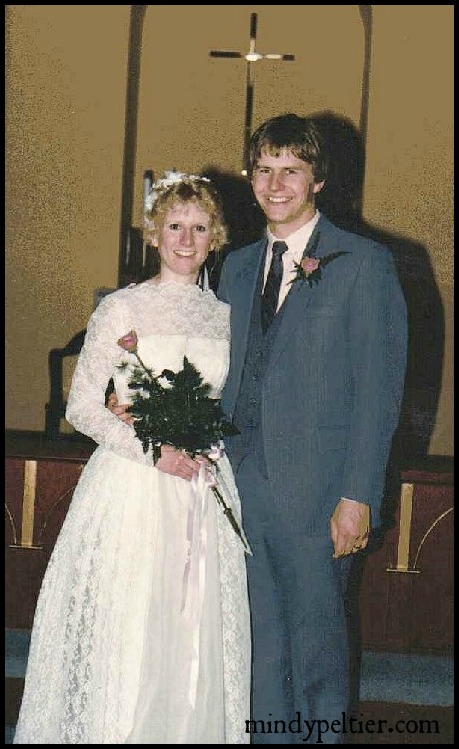 The cord of three is the rope that rescues.
PRAY to FIND EACH OTHER:
Like most young people, our marriage really began with the earnest prayers we poured over our respective lists of "Things We Want in A Spouse." Along with the prayers, we purposed to wait patiently and not compromise our standards. We were willing to wait for the person that suited those attributes we each desired.
PRAY to HELP ONE ANOTHER:
Complete unity requires complete honesty. We tell each other absolutely everything. The only information we withhold is in a counseling situation if we are asked to not tell our spouse.
Complete honesty means complete honesty about our own life and each other's. We take the Biblical instruction to exhort, encourage, and rebuke one another to heart, knowing we're brother and sister in the Lord. We pray about each other's strengths and weaknesses, then we may speak about them, then we pray more. It is vital to not only point out spouse's spiritual gifts or their faults, but to pray for them.
PRAY SPECIFICALLY:
I specifically pray for my husband concerning his spiritual gifts, relationships, parenting, work performance, wisdom, blessing, his Bible reading and Biblical understanding, role as an elder, and  unsaved family members. I pray specifically for situations he needs to make decisions about,  about conversations he needs to have or is having, and for his influence on others.
For myself, I pray to love, honor, and submit to him. I desire to be a good helpmeet and not be selfish. It's too easy to have a Disney princess mentality, thinking your husband's purpose in life is to make you look and feel like royalty. Sometimes it is about cleaning toilets and being alone because your husband is spending time with the kids, other believers, or is in the Word. I pray my my joy and strength would come from the Lord so I don't drain my husband with demands that aren't his to meet.
PRAY for UNITY:
Because I purposely chose a man who had the Biblical doctrine, parenting ideals, a work ethic, future plans and beliefs on marriage roles I could wholeheartedly submit to, our marriage has been one of little major conflict. I get cranky about dumb stuff, we may argue because we are frustrated about something/something else, but we don't disagree on the major issues in life.
We make decisions together. We pray about things, then decide what's most in accordance to the Lord's Word. If it isn't a spiritual issue, we just ask for wisdom.
When we do disagree, we pray for unity. Someone has to change. Instead of each insisting on our own way, we commit to the Lord in prayer and ask Him to change our hearts. Disunity is  lonely in a marriage, and the Lord wants our hearts unified as much as we long for this.
A specific example has to do with the number of children we wanted to have. Since I was 12 years old, I wanted six kids. During our engagement, my husband thought four would be a good number. Once we began having children, he thought two would be a good number. Although my heart wanted six kids, I could feel them in my arms before they were there, it was more important to me to have unity. I prayed and prayed for the Lord to unite our hearts and plans according to His will.  The Lord answered my prayers. One pregnancy at a time, my husband's mind was changed, by the Lord, not by me. We have six children, six that were a blessing in unity, not a happening because I insisted on my own way.
PRAY through SCRIPTURE:
Another way prayer has blessed our marriage, is by praying specific Scriptures in the Bible for ourselves and for one another. We pray for the children this way, too. It's more powerful to use the Lord's words in prayer and we're more likely to be praying in His will.
PRAY to STAY
Staying in the race isn't the same as finishing the race well.  Growing up, Scott  spent much time with an older couple in the neighborhood. At times being in their little home was like being caught in the crossfires of a world war.  Their communication over 50 years had been yelling and bickering, even though the love and commitment were real.
Through each stage of life, your marriage must grow and change with you. It gets better, it never gets easier.  The challenges of live only increase with the increasing demands. Pray to stay your way through.
Tying your marriage together with a cord of three that's strengthened by prayer, is how to make your anniversaries  happy.
**********
To read other posts I've written about love and marriage, click the image or link below.
       Happily Ever Afters Don't Just Happen                    The Man She Married
Ten Things to Look for in the Perfect Man                  Laughter Doeth the Marriage Well