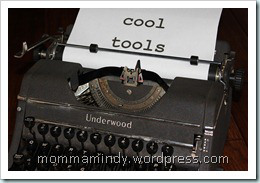 My mother always told me, "If you can't say anything nice, don't say anything at all."
Wise advice.  I should have followed it more often. 
The Bible gives a good reason for keeping silent. Proverbs 17:28 says, "Even a fool who keeps silent is considered wise."  To be successful, you should probably have a wise look on your face, not a scowl.
There certainly is a time to be silent.  
There's also a time to speak:  to encourage, enlighten, or empower. If you don't have anything nice to say, and there's a need for wise words,  I have a Plan B.
Quote someone else.
Quotes are the rage of social media, with all the cool graphics  that make us laugh until we cry, and cry until we run our mascara. They make us want to buy a dog and/or a gun and read labels for fear of ingesting anything with lotsa' initials. Most of the time we share them or like them because we were moved to emotion.
Quotes play a part on influencing humans.
invoke action
inspire
empathize
motivate
sympathize
advertise
celebrate
humor
convict
Why waste the energy on a lengthy discourse when you can cover the territory with a one-liner?
Today's Cool Tool helps create your own graphics using borrowed words or your own words of wisdom.  Introducing Quotes Cover.
At QuotesCover.Com click on CREATE QUOTES PIC in upper right hand corner.
On the next screen you choose a QUOTE or PROVERB from their lists or type in the CUSTOM WORDING box.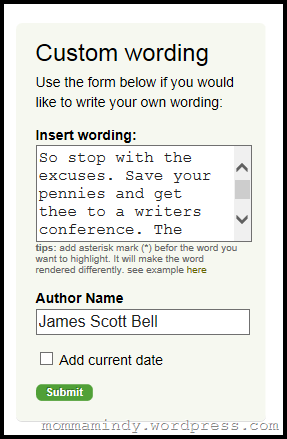 I've read the article,  "Get Thee to a Writers Conference" several times and wanted to use James Scott Bell's quote.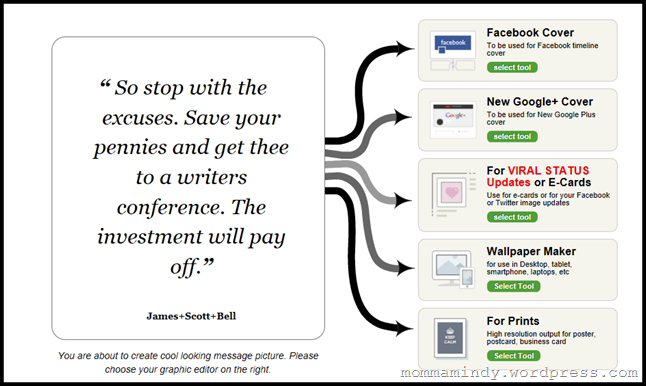 Five choices on the next screen.  I chose VIRAL STATUS UPDATES. I'm a Facebook junky.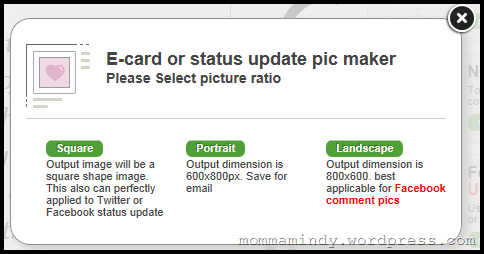 I chose SQUARE.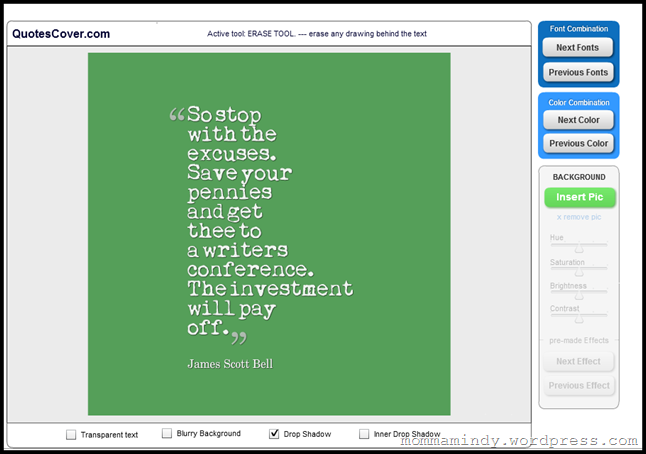 The options aren't like  Word's environment, where you choose text font and size.  You click "NEXT" and they randomly change your image's text and color.
Are you ready to go viral?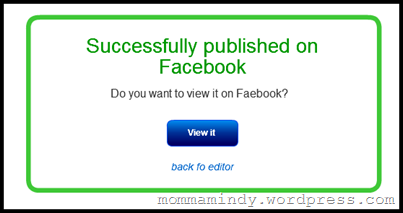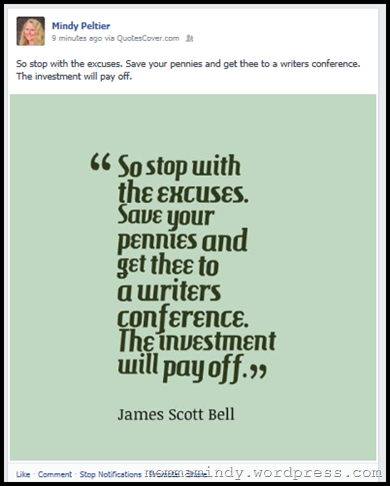 It automatically puts the text of your quote as your status.  If you want to add your own status update, save your graphic to your computer, then upload as you would a regular picture.
Want to make your Facebook Cover inspirational?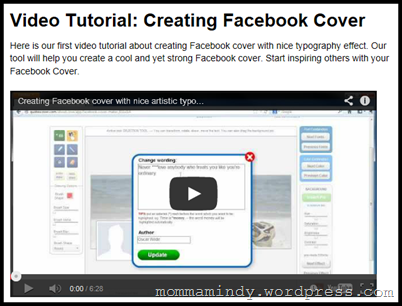 They provide an easy to understand tutorial.
I'd previously blogged about two other quote-making Cool Tools, Quozio and Recite This,  and I'm sure you remember my very exciting tutorials. Quotes Cover has a feature they don't, it allows you to upload your own backgrounds.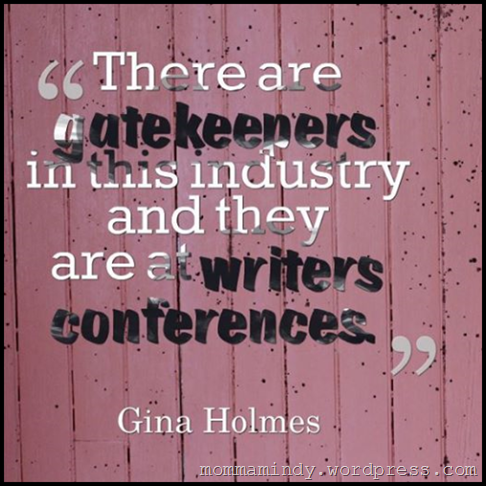 Since  I'm all about using COOL TOOLS to make COOL QUOTES, I take pictures  of unusual things to use for backgrounds.  This pink ceiling is in a historic building in St. Augustine, Florida.
Pictures of fences, streets, brick walls, clouds, sand, stucco walls, asphalt streets, doors, and windows are filling up my files.  (Note to self: label pics as I upload to find them easily.)
When you upload your own photos, choose VIRAL STATUS then LANDSCAPE.
My picture of a stairwell in St. Augustine.  Doesn't everybody take pics of steps while on vacation?
Using  Bing,  I typed in "quotes about stairs" and clicked to http://thinkexist.com to choose.  Vance Havner is a man worth quoting, so this was perfect for my picture and my life goals.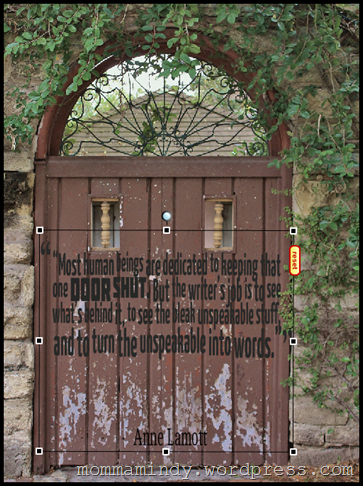 You can't change the font size, but you can use the little boxes to manipulate text size and move the text box.
Tip for the advanced: The Quotes Cover environment only allows horizontal pictures.  It cut off most of my door because my picture is vertical. I used Windows Live Photo Gallery to rotate my picture first, then uploaded it sideways.
Of course, I had to tip the text box sideways, too, and lean over my computer to create these graphics, but it worked.  After saving, I simply rotated it upright and massaged my neck for a few minutes before finishing this blog post.
Put an asterisk in front of words you would like highlighted.  When you upload your own background, they allow you to add special effects by clicking a button.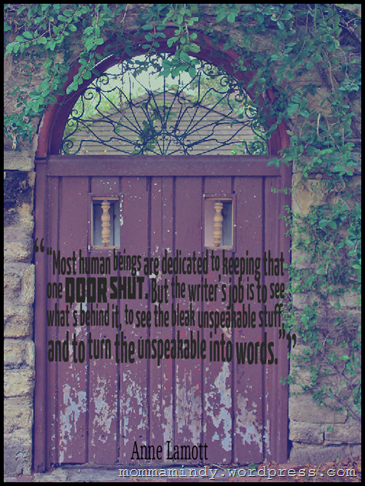 It's a random process of clicking until you're satisfied.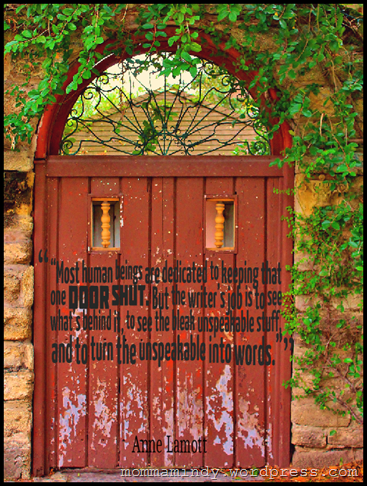 Quotes Cover helps you create a graphic to encourage, enlighten, or empower.