In a mother's life there's a sad, sad turning point,
when you stop being the joy and delight of your child's life,
and they're embarrassed
around you
regarding you
over you
near you…
Pick any preposition and add yourself,
to describe the dimensions of their embarrassment.
We were going to run a quick errand.
OK, I'm not telling the whole truth.
It's never "a" errand, as in one,
and it's never quick.
Anyhoo, we were on our way out the door when the winds of affection
changed directions in the climate of my 9 year old, Rebekah.
"Are you going out like that?" she asked.
Ignorant of my most recent faux pas, I asked, "Like what?"
"Maw-aw-aw-awm," she informed,
(the longer it takes to say mom, the bigger your offense)
"you have a stick in your hair!"
When we were busy doing school in the backyard,
soaking up the last of the summer sunshine,
I was getting too warm.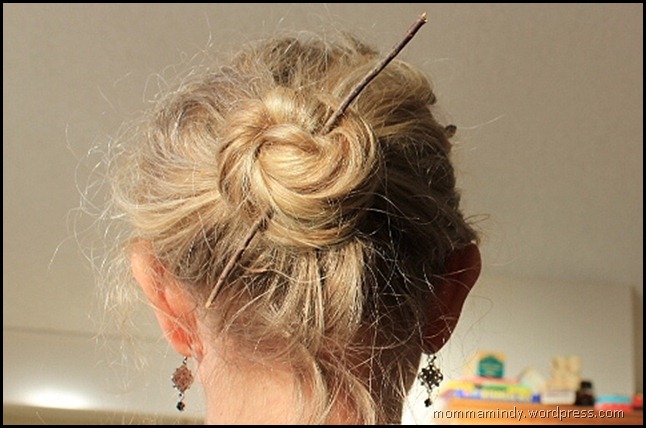 So like the Prairie Momma I am,
that's my name on my other blog,
I twisted up my hair and stuck a stick in it.
There wasn't a pen or a chopstick nearby,
so I just made do.
I always impress myself when I can
improvise in primitive conditions.

To pacify her, I pulled the stick out and continued on my merry way.
Apparently, I forgot to comb my hair.
(And that wasn't embarrassing?)
After all, I was on an errand mission.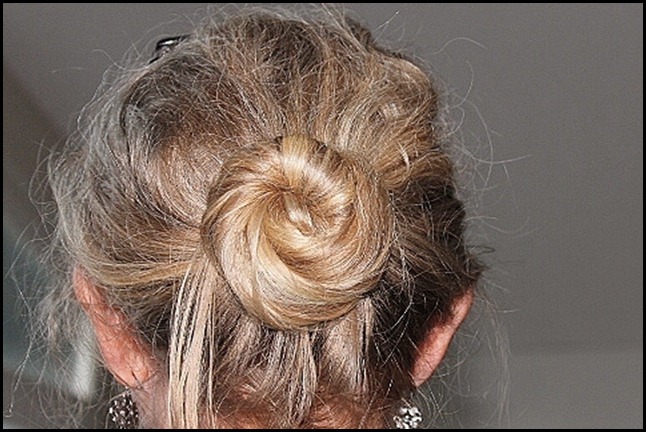 When we got home, my hair was STILL wrapped up in a bun.

My newly grown curly hair and my wiry gray hair
have changed my hair into Barbie hair,
but not new Barbie hair.
Old, icky, abused-too-much, left-in-the-toy box-too long hair,
like my Quick Curl Barbie.
Except she was born that way.
[youtube=http://www.youtube.com/watch?v=z–ntETyNYo&w=448&h=252&hd=1]
The marketing propaganda that build up expectations that couldn't be fulfilled.
The commercial promised hours of fun with this gorgeous blonde Barbie.
Instead, her hair didn't hold a curl and she had constant bed-head.
Matted, twisted, frizzled, I-can't-do-anything-with-it bed head.
By the time our Christmas tree was taken down,
I had a Barbie with a brand-new body and destroyed hair.
Since Mattel had changed the neck joint structure,
I couldn't put an older Barbie head with good hair
on the newer doll.
I was stuck with the hair.
Now I'm stuck with my hair,
but this generation says bed head is cool.
According this blog,
by someone younger and trendier than me,
I was only a stick away from being cool.
She fixes her hair the same way,
but finishes it off with hair elastic,
sparkly tie or a strand of her own hair.
So, why should my daughter be embarrassed
in my presence
around my presence
regarding my presence
over my presence
near my presence
since I look like a Barbie doll with very cool bed head!?!