I was trying to make a healthier choice when eating at McDonalds with my hubby a few weeks back.
I stood strong and didn't order a Big Mac.
I didn't order French Fries.
I was good.  I ordered a salad.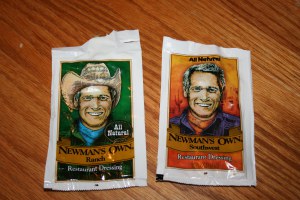 After I doused my salad with Ranch dressing I read the package.
Notice the words- "All Natural." It's supposed to make you think it is good for you.
I felt betrayed and angry.
Ranch Dressing:
Calories 170
Fat Calories 130
Total Fat 15g
Saturated Fat 2.5g
Trans Fat 0g
Cholesterol 20mg
Sodium 530mg
Total Carb 9g
Sugars 4g
Protein 1g
All Natural ingredients: Water, Soybean Oil, corn syrup solids, buttermilk, distilled vinegar, egg yolks, salt, sugar……
Southwest Dressing:
1 pouch has 100 calories
Fat calories 50
Total Fat 6g
Sat Fat 1 g
Trans Fat 0g
Cholesterol 20mg
Sodium 340 mg
Total Carb 11g
Sugars 3g
All Natural Ingredients: Water, corn syrup solids, soybean oil, distilled vinegar, egg yolks, corn vinegar, corn starch, whey salt……
Ouch.  With all the corn syrup solids, shoulda'-coulda' just eaten some candy.
1 small fry McDonald's fry:
Total Fat 11g
Sat. Fat 1 g
Trans Fat 0g
Cholesterol 0g
Sodium 161 mg
Total Carb 28 g
Sugar 0g
Protein 3g
Vitamin C  9%
Iron  3%
I coulda' had the French fries?  What was I thinkin'?  I was thinkin' I could trust a famous man like Paul Newman who labeled his dressing as natural.  I guess corn syrup is natural, but it isn't healthy.  A little bit of deception, doncha' think?
My husband taught me a cool dieter's trick – you dip the fork in the dressing, then stab some salad onto the fork, then insert into your mouth.  You get the flavor, but use way less dressing.  Next time I ordered a salad, I tried it and it worked well.
Anybody else know any good dieter's tips for eating at restaurants or at home?
Next time, I don't want to be cheated healthwise, knowing for the fat and the calories I consumed, I coulda' had a candy bar and a French fry instead.
Shoulda'-Coulda'!