When I was a little girl, I found a treasure.
My mother's strand of fake pearls had broken and she had swept them up.
All except one.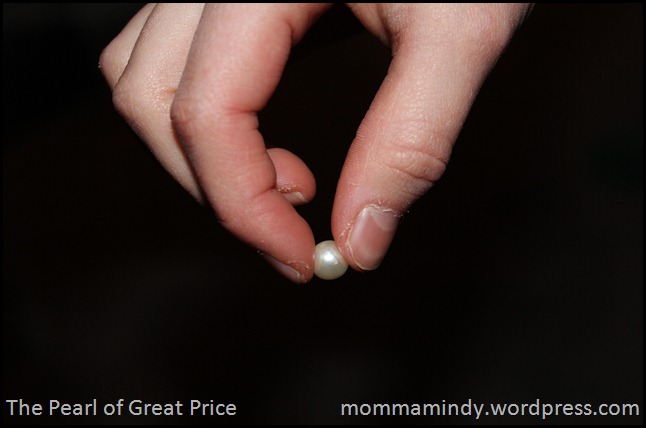 My chubby little toddler fingers found the precious item and did what any self-respecting toddler would do, I shoved it up my nose. However, being a toddler with very good manners, I decided I wouldn't pick it out.  I found a tissue and blew it out.
I still remember the thrill of feeling that pearl come flying out of my nose for the first time.
It must have added excitement to my mundane toddler life, because I repeated this over and over and over.
Shove up, blow out.
Shove up, blow out.
Shove up, blow out.
Shove up….blow….blow…blow….blow…
I don't remember breaking the news to my mom that I'd found her missing pearl and  was storing it in a very special place.
I do remember sitting in a sterile and barren office with a big man in a baggy white coat who spoke in a soft voice.  He had an aura of kindness and gentleness.  As the story goes, the little pearl was positioned so perfectly, he was simply poked a small wire up my nose, hooked it into the hole, and pulled out the pearl.
He made me feel very special because he told my mom, "She can breathe out of her mouth and  her nose."  For years, I thought I was very talented, until I learned that everybody can breathe out of their nose and mouth.  He was only indicating the success of his pearl retrieval, not the uniqueness of my giftedness.
I always wondered why my Mom didn't save that little pearl in a little jewelry box, or hang it from a gold chain, because that little pearl ended up costing my Mom a lot more to retrieve than it was worth. It gained in value because of the cost.
When I was an 18 year old college student, I was the treasure that was found.
Matthew 13: 45 "Again, the kingdom of heaven is like a merchant seeking beautiful pearls, 46 who, when he had found one pearl of great price, went and sold all that he had and bought it."
The Lord Jesus was the seeking merchant.
Luke 19:10 "for the Son of Man has come to seek and to save that which was lost."
I was lost and he sought to find me.  When I trusted Him as my Savior I became a part of his blood-bought church.The pearl is the church, those that have been saved through faith in Him.
The great price is the precious blood of Jesus.
"Just as a pearl is formed inside an oyster through suffering caused by irritation, so the church was formed through the piercing and wounding of the body of the Savior."  (William MacDonald, Believers Bible Commentary, p. 75)
He paid a great price for my redemption. I gained value because of this cost.
How then shall I live?
I Corinthians 6:20: For you were bought at a price; therefore glorify God in your body and in your spirit, which are God's.