We were gathered for a nice three generation outing for coffee.
I was relishing the time with my daughters and my favorite well-behaved granddaughter.
I think
Brookie
felt left out drinking milk from a
sippy
cup
while we were all enjoying coffee concoctions.
I also think she was getting a little bored while we talked,
talked,
and
talked.
After fidgeting on her Mommy's lap, she squiggled down and decided to keep this gentleman company. While we thought she was adorable, sitting up on the chair, staring at him in a way only a 1 year old could get away with, I don't think he appreciated it. For some reason, I think he was actually
enjoying
the solitude before Brookie parked herself at his table.
Tired of pestering innocent bystanders,
Brookie decided to use the free moments to take inventory of her Mommy's purse.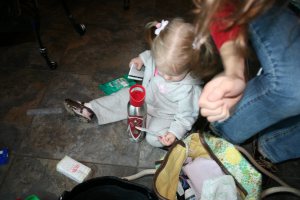 OOPS!
I guess Mommy was a little embarrased when she realized ALL the things Brookie was pulling out of her purse and displaying for the whole coffee shop.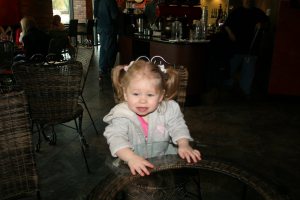 Quickly tiring of the new game, especially when she wasn't allowed to play with the cool cushioned thing with the cotton top and sticky bottom,
she decided to climb on a glass table, instead.
Like a Good Gramma,
I quickly ran over to where I sensed a precarious situation
as she climbed on the rickety glass-topped table.
Like a Good Gramma, I quickly ducked under the table.
I guess you already figured out that I had my camera in hand when I dashed over to the table.