I like to get my kids in the kitchen at an early age.
At first they hold the mixer and dump the ingredients I have measured.
Sometimes they actually get them in the bowl.
When they begin cooking on their own,
I usually start with breakfast meals.
This isn't really what I meant when I told her
she would be learning to make scrambled eggs.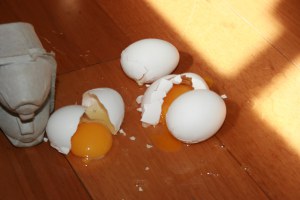 We clean up a lot of spills.
We have a lot of laughs.
I have learned to EXPECT disasters.
It saves me from being disappointed
or surprised when they happen.
We like to taste the batter.
I think they double-dip when I am not looking.
For all I know, they just lick the spatula
and put it back in the container on the counter.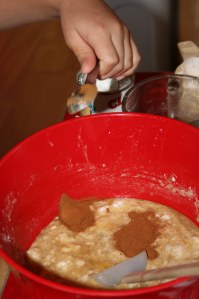 The second breakfast Beka learned to make was baked oatmeal.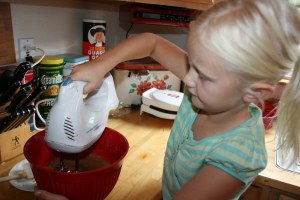 She loves using the mixer, it seems like real cooking.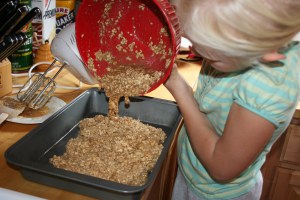 This is usually the part where you begin holding your breath,
knowing you might have to clean the cupboard faces,
and maybe wash an extra load of laundry.
Phew! No spills!
This recipe is from Florence, a well-loved woman who, along with her husband Lewellyn, used their family farm for a camp, Box T Bible and Saddle Camp, for many years.
1 cup of brown sugar
4 eggs
2 teaspoons baking powder
1 1/2 cups of milk
2 teaspoons cinnamon
1/2 teaspoon salt
1/2 cup melted butter
Mix together and add
4 cups of oatmeal (quick or regular, whatever you have)
Put in greased 9×13 pan and bake for 30 minutes at 350 degrees.
You can add nuts or dried fruit.
I love adding toasted, slivered almonds and cranberries.
Many people serve it warm with applesauce over the top.
My kids like to eat it in a bowl with milk and a little more sugar, if I don't catch them putting it on top.
I would love to vary this recipe now that I am becoming more conscious about fats and sugars. I thought of replacing the 1/2 cup butter with applesauce. Any suggestions?
******************************
As I start a new week with my kids underfoot in the kitchen, I am looking forward to all of us gaining new skills, enjoying each another's company and EXPECTING messes, spills, lost measuring cups and missing ingredients for everything I am cooking.
When I understand that CHAOS and CHILDREN are worlds that can coexist harmoniously if I understand their mutual dependence on one another and keep CALM, then there is peace in the KITCHEN.
Click over to Nan's blog, momstheword, to see what other moms are doing this Monday to make their homes SING! and start the week off right.