My son comes home from college almost every day with a new revelation. I remember those days. You're filled with the newness of it all and have to constantly discern what's pure malarky and what's useful. It makes for interesting dinner conversations.
My son showed me the video below.  Click on the pic to bring you to youtube.com.
Hill's main point was that Americans have three times more living space as 50 years ago. We also have a new  $2.2 billion industry in storage units. Once we fill up our houses, we start filling up storage units.  He says having more leads to:
1. Credit card debt
2. Huge carbon footprint
3.  Happiness levels flat line
His conclusion: Less is best.
As I looked at my overfull house, I had to agree.  In fact, as a mother of six kids, I know if I don't constantly purge,  the house would explode at the seams.  Nobody can find a pen or a matching pair of socks, but there's stuff everywhere. In every room.  In every closet. In every drawer.  Under every bed. UGH! He ramped up my ambition to clean, purge and organize in June.
In fact, he made me feel a little jealous. 
He doesn't know what it's like to open the pantry and have a newly opened box of cereal that was balanced on top of a newly opened bag of pasta fall on his head before he's had his morning coffee.

He doesn't know that little motion of shoving all the towels in the closet quickly to close the door before they fall.

He doesn't have to throw at least five things off the couch when a friend drops by.
Then, he made me feel a little guilty, until I tried to find his bio. 
No mention of wife or kids.  I'm gunna' assume he's single, 'cuz I don't think he hid a wife and children in the closet of his 420 square foot apartment when he shot his video.

The paraphernalia alone for a baby would fill up his space.  A woman with any amount of clothing and hobbies could fit it up at least one time over.  He didn't mention a roommate, so he didn't have to accommodate anyone but himself and one hobby – kite surfing.

With no yard, no gardening tools. I suspect I own more power tools than he does. Why does that make me feel a little smug?  He probably doesn't have any old letters from friends, or a picture of him in the 7th grade. I'm 100% certain he doesn't have any baby teeth or locks of baby hair in a hope chest, either.

So, other than kitchen items and toilet paper, Hill  basically only needs 7 pairs of socks, 7 pairs of undies, 7 shirts, 4 pairs of pants, any 4 pairs of shoes.  He's done.  Each item in a man's closet matches every other item in a man's closet.  There are no rules for men's clothing, just that you wear them.  He has a distinct advantage in living with less by being a male bachelor. 
As my son and I discussed this video and how we could realistically apply this to our family,  I had to cut off our conversation.  I had about 48 hours to make 35 centerpieces for the Northwest Christian Writers Renewal, our annual writers conference, with no money budgeted. I wanted to honor our keynote speaker, Jane Kirkpatrick, a Christian historical fiction writer, with my decorations.  They had to be free.  Inspirational.  Reflective of her books' themes.  Vintage.
I was ready for the challenge.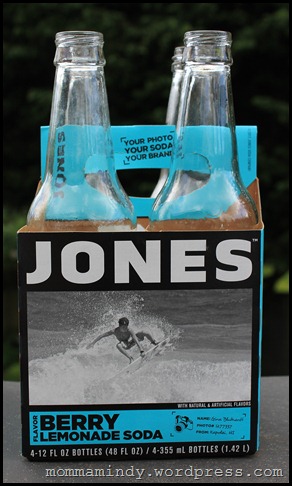 Of course, on the rare occasion that I allow my kids to drink pop, I save the bottles, don't you?  They're so cool.
I removed the label with every Mom's favorite liquid super-hero, Goo Gone.
To make the bottles look vintage, daughter Beka and I roughed them up while watching an old movie together.  On the deck.  In the sunshine.  A moment to cherish.  We were wincing with the annoying sound of the sandpaper on glass (think fingernails on chalkboard) but it was a great time of creating something out of nothing.
I  cut strips of woven fabric, unraveled the edges, then hot glued them around the middle.   I save buttons from everything, and have been known to buy a $.99 shirt at the thrift store just for the buttons.
The glue can be peeled off and the bottles put in the recycle bin if nobody else cares to use the vases again. The buttons can also be peeled off and reused.
The Daughter's Walk tells of  Helga and daughter Clara Estby, who walked from Spokane, WA to New York City trying to earn $10,000. The Kinship and Courage series tells the story of 11 amazing women who lose their husbands on the Oregon Trail, but continue alone. Vintage maps ripped into squares represented the movement of Kirkpatrick's characters. Of course, I save old maps, don't you? Homeschooling/crafty women tend to save weird things.  This paid off.
Inspirational quotes from the novels by Kirkpatrick were written with a calligraphy pen on tags cut out of brown grocery bags and tied with compostable twine.
My OCD is freaking out that the fabric slid to the bottom of the bottom.  It needs to be centered.  If you have OCD, too, either pretend it is centered, or quickly scroll down to the next picture.
I have an old wooden crate of milk bottles.  We use them for drinking glasses when we have a party and for vases. No filling up the dumps with Styrofoam with me, no sirreee.
Vintage is the new green.
You're probably wondering about the flowers.  Who in the world has enough silk flowers for 35 arrangements?  Well, apparently I do.  I hit this amazing sale when Michael's was clearancing out their summer/ fall items for $2 a large, black trash bag.  I told my husband to close his eyes, smile, and work with me.  After 27 years of marriage, he understands. We filled the back end of his Jeep. But, for about $12,  I had toys for Bible camp prizes, the birthday basket at our church and Sunday school prizes, plus enough floral picks for two 18 gallon plastic containers.
All you bargain hunters are bemoaning the fact that nothing this good ever happens to you. All you men are SO glad you're not married to me. Yep, so is my hubby. He adores me. In all my quirky ways.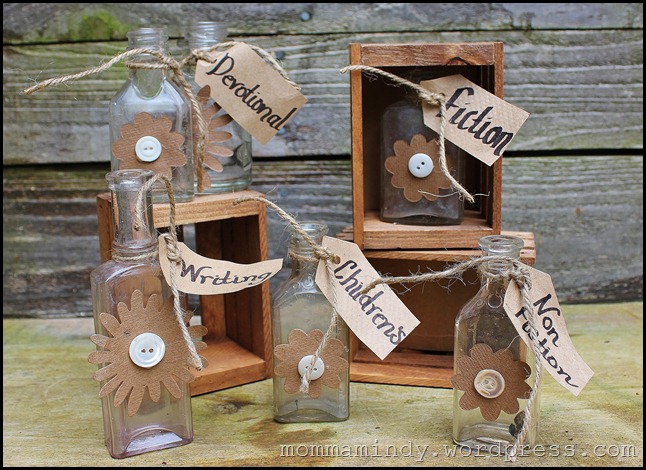 I continued the vintage theme on our book table, using old bottles, more brown paper and buttons to label the genres.  The small crates were $1 at Michael's and held business cards and book markers from authors. (These little bottles would also work well to put name tags and/or a flower to mark a place setting for a meal.) Large, wooden crates were used to display books.
So, there ya' go.  In my 2,200 square foot home, that includes a double car garage, where up to 11 people have lived at a time, (that's 200 sq. ft. per person)  and I have been hoarding recyclables and craft materials for decades, I created decorations for a writers conference. I made something outta' nothing.
I guess Hill and I have similar ambitions in life, after all.
1. No credit card use
2. No carbon footprint
3. No unhappiness
More stuff, more happiness.
When I begin that summer purge, I'll probably avoid the craft room.