"They grow up so fast."
Older women always said this to me when my kids were little.  Sometimes they'd sigh, sometimes they would elaborate, but always there was a wistful longing in their voice. If they added anything it was about how precious little ones were or how wonderful my life must be.
I didn't believe them. In fact, sometimes it annoyed me.  Like the time I was trying to take two toddlers potty because their Daddy was preaching and the hungry baby was crying.  It is hard to fully enjoy the moments when the demands overshadow the delight.
Technically, I knew it as true, but practically, there was not even a glimmer of light at the end of the tunnel. When you have two or three little ones that can't feed, potty or dress themselves, there isn't even enough time in the day to think on this phrase.
Every night could be an eternity, if you're up with a fussy, nursing baby.  A  bed-wetter adds hours of laundry to each day. Diapers, potty training, laundry, meals, dishes, shopping, laundry, meals,  dishes, shopping….it's a never-ending cycle of demand on a woman who never gets enough sleep, water, food or adult conversation.
In the midst of all the work, is the glorious reality of having beautiful little people adoring you all day long. 
Little fingers reaching, patting, pulling. 
Little voices singing, crying, calling.  
Little feet, running, falling, escaping. 
Little hearts learning, sharing, loving.
Like a perfect storm, intense love and hard work collide in a young mom's life.
And then, it's over.
My kids grew up, just like everyone said they would.
But it happened too fast.
I wasn't ready.
One day I was handing  them toilet paper and teaching them to wipe, the next day I was handing them  car keys, the next day, boxes of all their belongings as they pack their cars.
If I had believed the older women I would have hugged and kissed them more.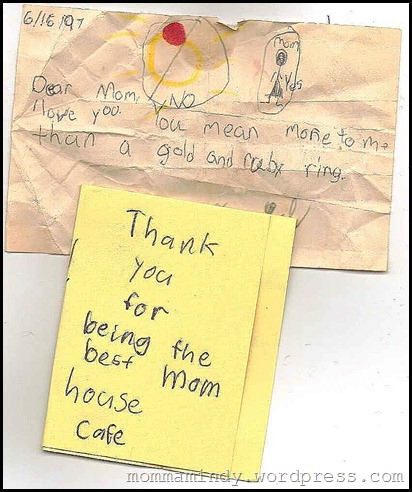 I  would have saved EVERY note that said I was the best mom in the whole world or that I was loved and turned it into a book to read to myself every night at bedtime when they were teenagers.
I would have listened more when they wanted to tell me all their secrets.
I would have praised them more and been more gracious with their mistakes.
I would have slowed down time by not wishing they would grow up faster.  Because when they no longer need you, they no longer need you.
Young moms,  live your life as if you are my age looking back.  When the demands are high and your patience is low, how do you want them to remember that day?
As you're faced with the decision of how to spend an hour, make the decision that will leave  you the least amount of regret.
Because, we older women are right.
They grow up too fast.