My horse-loving daughter was thrilled to be at her first rodeo, the Stampede Rodeo in Helena, Montana.
She oohed and aahed and twisted in her seat, living vicariously through the cowboys and cowgirls around her.

I was thrilled, too.

There was a rock wall to climb and a family safe seating area, where I didn't have to worry about having beer spilled on me or chewing tobacco spit on me.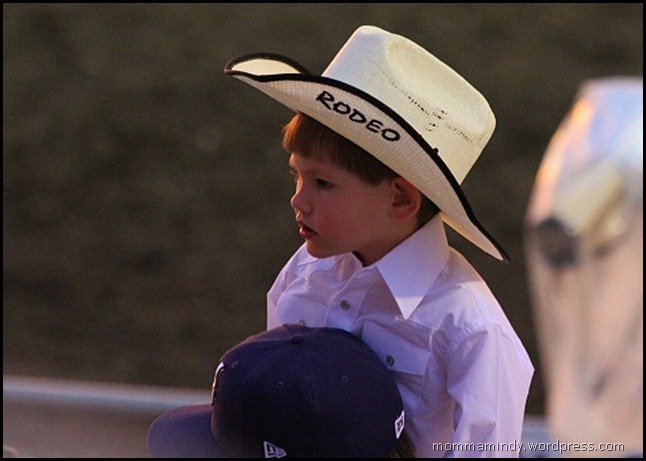 There were adorable little kids in hats bigger than their dreams. When the Rodeo Queens came out, Rebekah was enthralled.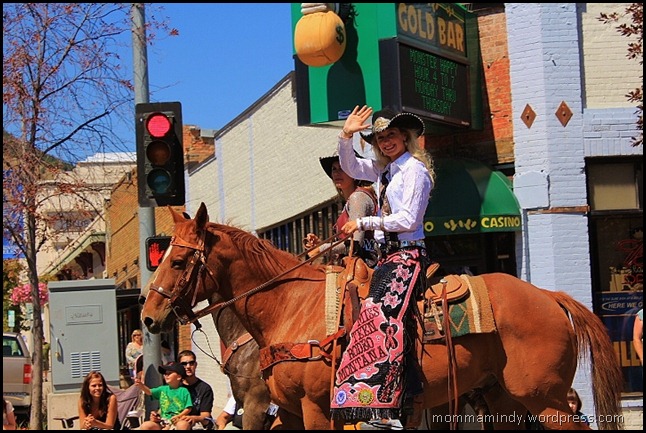 (Miss Rodeo Montana Mariah Rys-Sikora on left, Miss Teen Rodeo Montana Jennika O'Neil on right.)
They waved at us during the Stampede Parade earlier in the day, so I think Beka assumed they were acquaintances already.
Beka voiced her desire to meet the Miss Rodeo Montana.
Mommas like to make their kids' dreams come true, so when Miss Rodeo Montana left the riding arena and walked into the concession stand, we took off after her, like star struck women.
Judging by the size of the belt buckle, it's no wonder we were star struck.
Love me some big belt buckles!
In fact, I plan on getting one some day. But, I'll have to buy mine because they don't give them out for doing 100,000 loads of laundry or wiping up over ten gallons of puke.
My husband always worries about my inability to function in life, because I forget to put gas in my car, forget to pay bills, and sometimes I forget important things, too.
He'll say to me in loving exasperation, loving of course, 'cuz he's a good man and all, "Honey, what are you going to do when I die?"
Raised in Montana, converted to city-slicker when I followed him to the Seattle area, I always answer, "Buy Ropers, Wranglers and a belt with my name on it."

It just goes without saying that the belt would have to have a big ol' shiny buckle.
Miss Rodeo Montana, she's got the cowgirl gear already. I bet she even remembers to put gas in her car, or truck, or cattle trailer, or whatever she drives.
Mariah not only paused for pictures, she graciously answered questions. This was the highlight of Beka's life, to this point, I'm sure.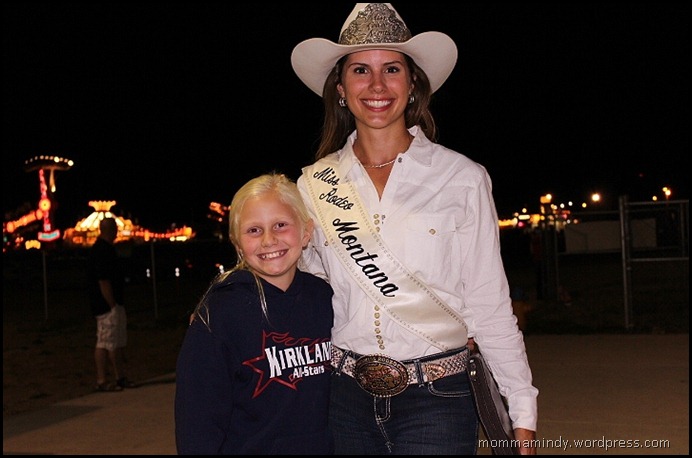 I look at Mariah and think, "Of course, she's a beauty queen, she's GORGEOUS!" (Read the link to see the rigorous scoring criteria, and you will understand she isn't just another pretty face.)
I know she diagnosed Beka's horse fever, so in the few moments it took to pause for a few pic and squeeze in a few quick hugs, she gave Rebekah some practical  and inspiring advice, just in case she wanted to be a Rodeo Queen.
1.   Learn all you can about public speaking
and get used to speaking in front of a crowd.

2. Learn all you can about horses.

3. Learn all you can about world events.
Beka  saw a belt buckle and sash looming in her future. I saw disappointment looming in her future. I was picturing our little city backyard, not even big enough for a few scrawny free-range chickens.

Rebekah was picturing our backyard, too, but with a horse grazing free range.

Hoping to gently squelch the fires of an impossible dream with the voice of reason, I asked, "But, you grew up on a ranch, right?"
"Oh no," she said, obviously surprised. "My parents grew up out East, then moved to Montana. I decided I wanted to be a Rodeo Queen when I was 13
and worked towards that goal."
A city girl gone cowgirl.
Suddenly, I was even inspired.

Back home,  during our first trip to the library Beka checked out a huge stack of horse books. She was turning advice into action.
Think I better check into the zoning laws for our backyard. Maybe we could fit one horse back there after all…
'Cuz ya' know, mommas like to make their kids' dreams come true.