Why is it that kids always wake up earlier and hungrier than their parental units? 
It never seemed right that the most energy buzzed in the people with the least amount of responsibility.
I used to get up early and make a nutritional breakfast for my kids every morning.
Used to.
Somewhere between babies #5 and #6 and three bouts of thyroid cancer, it wasn't easy anymore.  Yep, the kids had to eat, but it wasn't going to be homemade waffles, muffins or pancakes.
We ate a lot of cold cereal, instant oatmeal, cold cereal, fresh fruit, cold cereal and whole wheat toast.
Sometimes mommas gotta' do what mommas gotta' do.
Of course, getting my kids in the kitchen greatly improved our culinary fare. One of the recipes that got us through many mornings was Baked Oatmeal.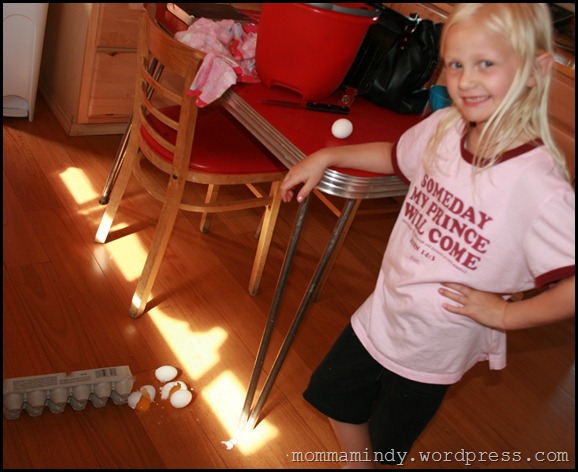 I blogged about having Kids in the Kitchen a few years ago.  It's true.  Kids make a mess.  But, if you don't let them mess up the kitchen, they can't learn to cook for you.  Simple as that.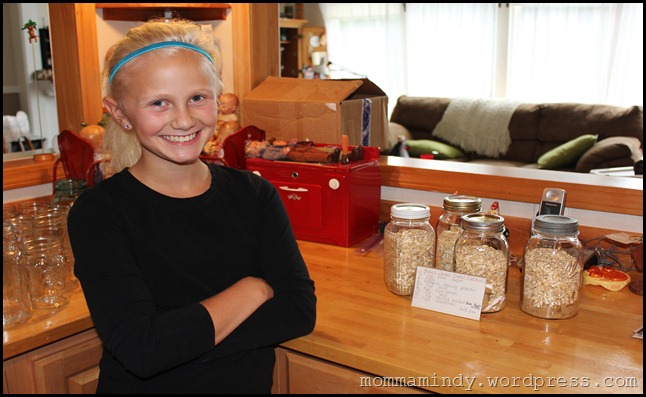 Beka and I wanted to be ready for school this year, so decided to make those cool jars people are always making and pinning

and giving away for gifts.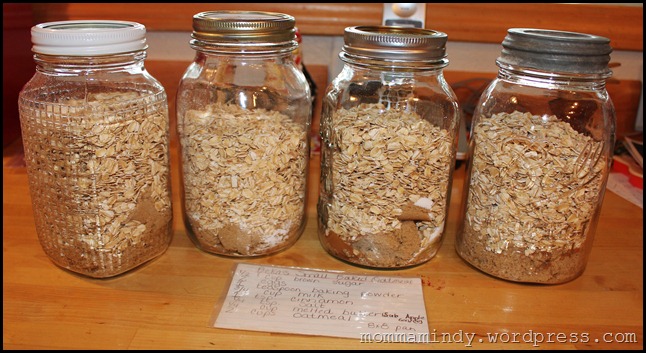 All the dry ingredients were placed in the jar.  We're "git' 'er dun" kinda' people, not "perfectionist you can pin me now" kinda' people.  The layers aren't perfect, the lids don't match, but hey, Beka finished this quickly.
I also learned the hard way, the more you demand perfection from non-perfectionist people, the less they wanna' work with you. You can either allow the children to do a project and accept how they do it, or you can do it yourself and have it perfect.
We  substitute the butter in the original recipe with applesauce, so one small organic (did that impress you?) no-sugar added cup of applesauce is placed on the top of the jar.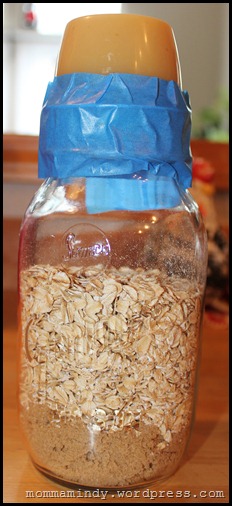 Since I can never find my tape, why yes, I have blogged about that, thank you for asking, you can read that blog here,so my son, who just got his drivers license and will go anywhere if I hand him the car keys, drove to three different stores looking for blue tape.
I have just enough residual OCD that this look was really, really bothering me.
Yes, I know the jars will be in the cupboard.  I know nobody will see them. But, they were buggin' me.
I had these….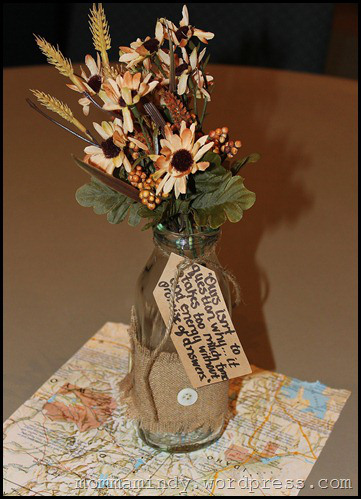 leftover from these quart milk bottles I'd decorated for our writers conference last May. The decorative fabric was slipped off and put in a scrap drawer.  The bottles are being decorated anew for an October wedding.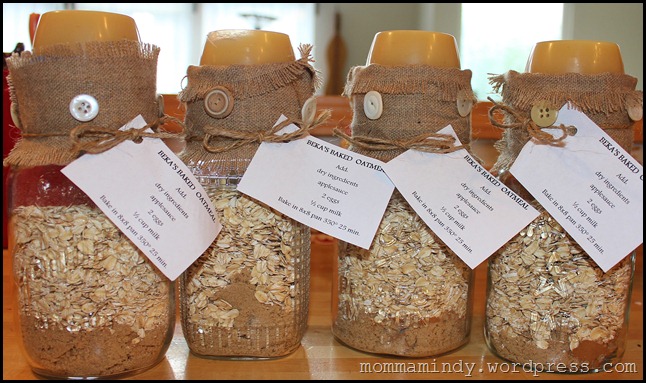 Slipped them over the top, added the tag with the wet ingredients to add and we were dun.
D.U.N. dun.
We make a smaller batch now that so many kids have flown the coop, so this recipe fills an 8×8 pan.
Beka's Baked Oatmeal
Place the following in the jar:
1/2 cup brown sugar

1 teaspoon baking powder

1 teaspoon cinnamon

1/4 teaspoon salt

2 cups oatmeal (we use quick or old fashioned
Tape to the top:
1 – 4ounce unsweetened applesauce
Wet ingredients to add:
Bake 350° for 30 minutes in a greased 8×8 pan.  You may add any combination of nuts, fresh fruit,  or dried fruit to this. 
I love putting almonds and dried cranberries in one corner just for me.  The kids think it is yucky, so I let them eat theirs plain.  You can serve it in a bowl with milk or on a plate as a piece of breakfast cake.  Yea, tell 'em it's cake for breakfast.  It can also be topped with warmed applesauce as frosting. 
Baked Oatmeal.
It's what's for breakfast.