Writers are busy people.  We're busy drinking coffee, avoiding phone calls and trying to recapture the brilliant thoughts of inspiration we had while falling asleep or waking up.
"Writer" isn't a static title, it's a dynamic lifestyle.  The gift and talent must be cultivated to grow. If you're a writer, it may go dormant for a season, but it will never die. 
And since most writers are also avid readers, that time issue comes into play.  There isn't enough time in the day to write all the stories, blogs and novels swirling around in our heads, nor is there enough time to read all the books stacked on the floor in front of overflowing bookcases and on the nightstand.  And I'm telling you to study the craft of writing?  Yes.  Yes.  Yes.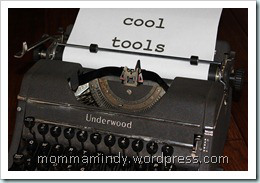 This week's Cool Tool will come right to your inbox.  You won't have to work for it or look for it. You can read it in your pj's, nobody will ever know. It will be our little secret.
It pairs very well with coffee. Yes, my desk is always messy.  I used to be a Neat Freak, can you believe it?  Me neither, or would that be either?  I haven't finished that cup of coffee yet, so the neurons aren't firing and I'm having a hard time staying on track.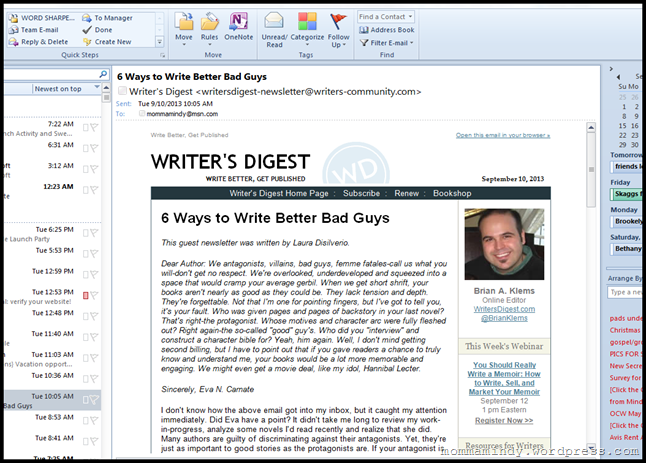 Ready for the Cool Tool that's free and easy?  Writer's Digest Newsletter, by Brian A. Klems, Online Editor. He's smart, he's funny, he learns me a lot of stuff.

  Even grammar. Read other articles here.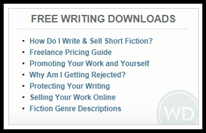 It gets even better. When you follow the link to their website, you find other FREE stuff. Writers like FREE stuff because we don't make a lot of money. Sure, we dream about buying a lake home, a boat, or paying some bills, but usually only writers we write about make a lot of money.
The newsletter includes a weekly writing prompt, as well as other resources, workshops and webinars, when you're ready to financially invest in learning the craft.
I've almost finished my coffee and my blog so I'm almost ready for the day.  Whether you've finished your coffee or not, click here to register for this Cool Tool, the Writer's Digest Newsletter. It will cultivate your gift and keep your writing life dynamic.