Once upon a time, my husband was fresh out of college and taught at a private Christian school.  Although we'd been married over a year and had our first child,  we weren't much older than the 19 year old seniors, so tried hard to maintain a sense of maturity and dignity.  We had high ambitions for impacting the academic and spiritual lives of our students.
One fine day, my husband was called into the principal's office.  Surprised, he sat down and watch the principal's face contort and turn red as he delivered a message.
"I had a phone call from a parent regarding your behavior," he began.
"Really?"  My husband couldn't begin to imagine what crime he'd committed.
"Apparently, you swore in the classroom," explained the principal with twitching lips.
"I Swore? But, I don't swear," explained my husband.  It wasn't a standard adopted for the classroom, it was a personal standard he lived by. He wouldn't have sworn even if he had smashed his thumb with the proverbial hammer.
"Well," said the principal, "you used a word that's highly offensive to a family and they called me to complain.  They insisted I speak to you about your classroom behavior."
Worried he would be given his walking papers, my husband asked, "What did I say?"
"You used the F word," the principal spoke and refused to let my husband defend himself.
He continued,  "You used the word….fff…fff…FART!"  With that he gave up trying to hold back his emotions and laughed so hard his office chair squeaked on its wheels.
With relieved laughter, my husband promised to never use the F word in the classroom again.
I think we forgot to teach this valuable lesson to our children.  I found this old worksheet from one of my daughters, who prefers to remain anonymous.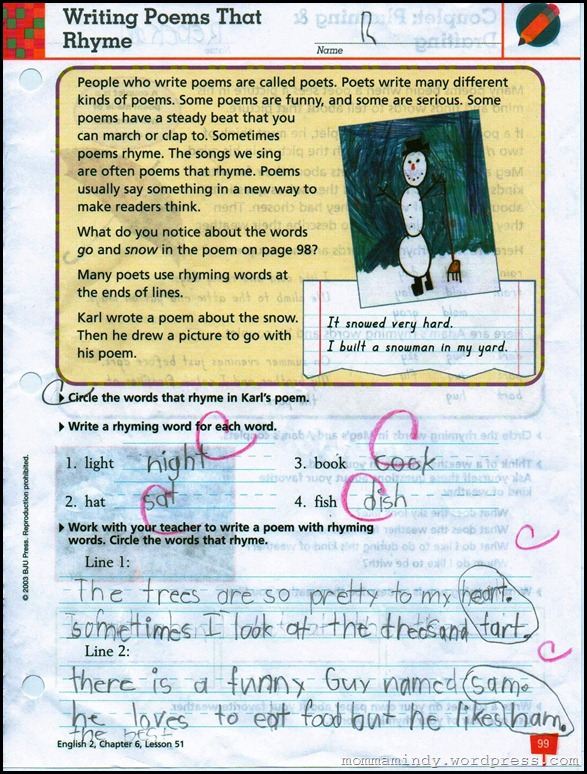 Yep, a chip off the ol' block.