Experts say breakfast is the most important meal of the day.
A healthy breakfast starts the day out right and prevents that mid-morning slump. Since 1933, General Mills has promised that eating a healthy  breakfast can make you a Champion.  Their slogan inspires and sells.
As parents, we've repeated this expert opinion and bought those cereals. We've given the breakfast lecture repeatedly and freely advise how to make this a lifestyle commitment.
Get up early enough to allow time to eat.

Keep breakfast food on hand so you're prepared.

Choose simple breakfast options so you'll follow through.
We need to set a good example.  We need to fill up in the morning so we have the energy and ability to carry on until noon. A hungry mommy can be a crabby mommy.  Along with traditional healthy breakfast options, I keep my pantry stocked with dried fruits and nuts. I've tried a variety of breakfast casseroles, quick breads and instant options. There's always a quest to make a healthy breakfast faster.
After friends visited Colombia and brought me a present, I have my new favorite ethnic breakfast.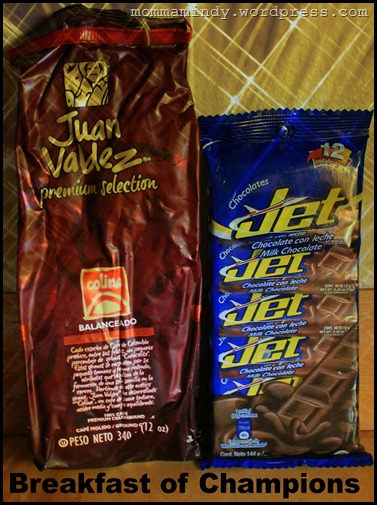 This is MY favorite Breakfast of Champions, what's yours?