My greatest artistic ability was revealed in high school. It wasn't cooking, it wasn't sewing, it was writing. I was taking Home-Ec and worked at the Cavalier County Republican as a journalist, photographer, and columnist. These two activities vied for my attention, but writing won.
Monthly I spewed out my teenage stories onto the page under the column title of "Melinda's Magnum Opus." This was long before it was common practice for teens to bare their souls publicly. Our telephones had three feet long curly cords and were attached to the wall in the kitchen or living room, so the entire family overheard your phone conversations. Unless you could stretch the cord into the hall closet.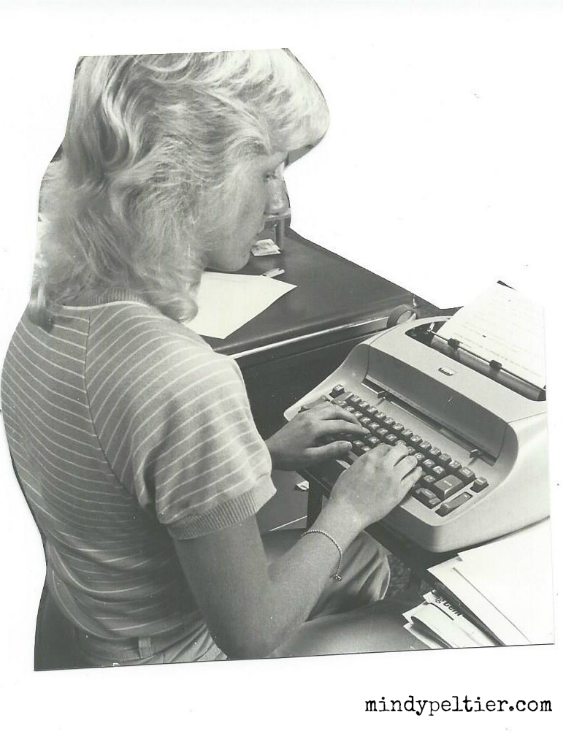 At the time, our latest technology was a 300 pound microwave for $300. I didn't know anyone that owned a VCR yet, but most of us were switching from 8-track tapes to cassettes. My classmates tormented me mercilessly for the public confessions I hacked out on an IBM Selectric.
Because I didn't suffer enough pubic humiliation in high school, I'm revisiting the past by posting my columns online. Travel back with me to the days where I wore braces and was paid $2.35 an hour to write. You can read the first column I wrote here.
This column was originally published ]on August 5, 1981, in the Cavalier County Republican.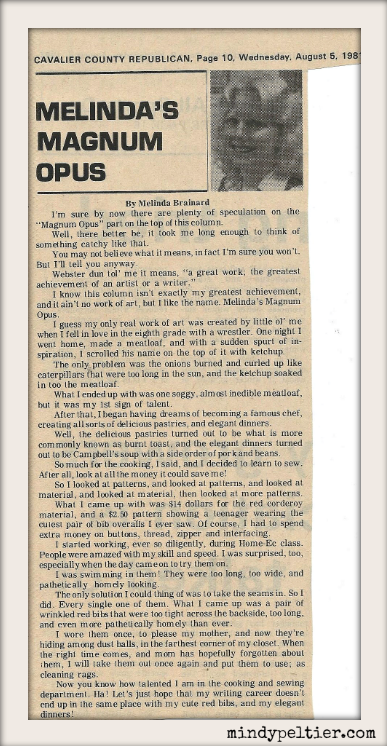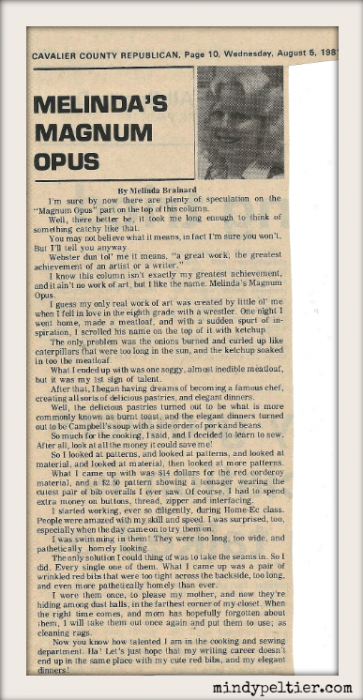 My Teenage Artistic Ability
I'm sure by now there is plenty of speculation on the "Magnum Opus" part on the top of this column.
Well, there better be, it took me long enough to think of something catchy like that.
You may not believe what it means, in fact, I"m sure you won't. But I'll tell you anyway.
Webster dun tol' me it means, "a great work: the greatest achievement of an artist or a writer."
I know this column isn't exactly my greatest achievement, and it ain't no work of art, but I like the name. "Melinda's Magnum Opus."
I guess my only real work of art was created by little ol' me when I fell in love in the eighth grade with a wrestler. One night I went home, made a meatloaf, and with a sudden spurt of inspiration I scrolled his name on the top of it with ketchup.
The only problem was the onions burned and curled up like caterpillars that were too long in the sun and the ketchup soaked into the meatloaf.
What I ended up with was one soggy, almost inedible meatloaf, but it was my 1st sign of talent.
After that, I began having dreams of becoming a famous chef, creating all sorts of delicious pastries and elegant dinners.
Well, the delicious pastries turned out to be what is more commonly known as burnt toast and the elegant dinners turned out to be Campbell's soup with a side order of pork and beans.
So much for the cooking, I said, and I decided to learn to sew. After all, look at all the money it could save me!
I looked at patterns, and looked at patterns, and looked at material, and looked at material, then looked at more patterns.
What I came up with was $14 for the red corduroy material and a $2.50 pattern showing a teenager wearing the cutest pair of bib overalls I ever saw. Of course, I had to spend extra money on buttons, thread, zipper, and interfacing.
I started working, ever so diligently, during Home-Ec class. People were amazed with my skill and speed. I was surprised, too, especially when the day came to try them on.
I was swimming in them! They were too long, too wide, and pathetically homely looking.
The only solution I could think of was to take the seams in. So I did. Every single one of them. What I came up with was a pair of wrinkled red bibs that were too tight across the backside, too long, and even more pathetically homely.
I wore them once, to please my mother, and now they're hiding among dust balls, in the farthest corner of my closet. When the right time comes, and mom has hopefully forgotten about them, I will take the out once again and put them to use; as cleaning rags.
Now you know how talented I am in the cooking and sewing department. Ha! Let's just hope that my writing career doesn't end up in the same place with my cute red bibs and my elegant dinners!
My Old Age Artistic Ability
My braces came off 37 years ago, but my teeth are moving back to their original positions and I may end up in braces again. Maybe I should have dug deeper into that garbage can at the University of North Dakota when I accidentally threw away my retainer…
I'm blessed enough to be #MarriedtoMrP, a man who loves to cook, because cooking is still not my forte. My sewing skills improved because I often sewed cute matching outfits for my kids when they were young.
Most importantly, I'm still writing.
I scribble on random pieces of paper, church bulletins, and journals.
My goal to use my artistic ability is the same as my teenage self – to publish a novel.
That truly would be my "Magnum Opus."
And when I'm published, I won't make meatloaf to celebrate.