By the end of May,
in the house was
very tired
of school.
She was wishing the year was over.
She was longing for summer to begin.
She didn't ever want to go back to school.
She didn't even want to finish the books.
Since that
was the
that
officially declared school to be over.
A few more worksheets were completed,
and a few were just thrown away.
Yea, I did.
I threw 'em away.
The end of the math book reviews the next year,
the next year begins with review of the past year.
I thought a few worksheets wouldn't matter.
I thought it would be no big dealio.
I was wrong.
Really, really, really wrong.
Those few worksheets really, really, really mattered.
They mattered so much, it called for celebration.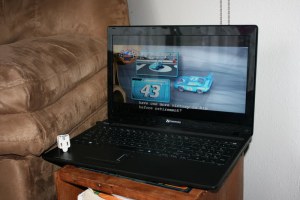 A movie was chosen.
Coffee was made for the favorite teacher.
That would be me.
Snacks were prepared for the favorite teacher
and the smartest student in the gifted program.
That would be Rebekah.
OK, she's the only student in the gifted program.
OK, she's the only student in the whole elementary school.
She's still the smartest.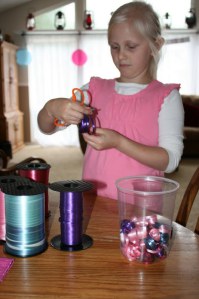 Ribbons were curled.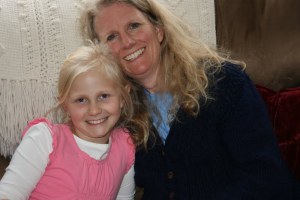 Snuggling was done between the teacher and her pet.
The math workbook was put on display.
A while later, a jig was done while the book was carefully disposed of,
in the recycle bin, of course.
Go green!
Green is the new black, ya' know.
Teacher's Pet armed herself with curled ribbon…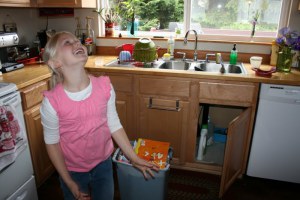 …and launched it in the air while still dancing a jig.
A "I'm Happy Math is Done" kinda' jig.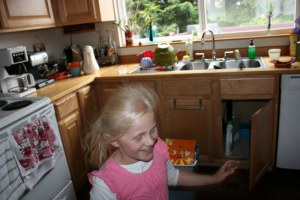 A "Run Around the Kitchen and Celebrate" kinda' jig.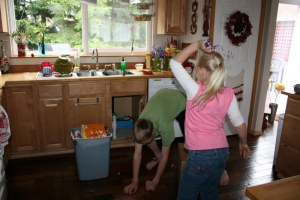 A "Brother Help Me Celebrate" kinda' jig.
Those few pages really, really, really mattered.
As I plan the coming school year,
I'm wondering how to re-create
the energy,
the thrill,
the jubilation,
displayed for
a math workbook
into
a new math workbook.
Most kids begin their formal education
with excitement and a love for learning.
For different reasons and at various stages,
kids can lose that love and excitement.
I am more concerned about enthusiasm than curriculum.
As the daughter of two teachers,
who married a teacher,
and has been homeschooling 17 years,
I can tell you this~~
I've never seen a phonics curriculum that forgot to teach the letter "s"
or a math curriculum that didn't teach division.
Certainly, some curriculums are better than others,
but without enthusiasm and a love for learning
(teachers and students)
curriculum loses its instructional punch.
So, I'm ordering books,
and we homeschooling mommies love us some books,
and devising ways to stir up a new batch
of enthusiasm for the 2011-2012 year.
And, taking the cue from the
Teacher's Pet,
a good place to start will be
with coffee, snacks and confetti.