I mustered the courage to sightsee in  Amsterdam all. by. myself. 
I rose on the wings of anticipation  and crashed into my closet of reality.
I had nothing. to. wear.
While a group of women fasted from shopping a few years back with the Great Apparel Diet,  I forced myself to shop, but bought one black t-shirt, one brown one and a skirt. I promptly lost the black t-shirt on vacation. I wear the denim skirt nearly every Sunday. My closet is still anorexic.  After all,  you don't need to make a fashion statement at the grocery store or Target. Besides, if you have just icky clothes, your teenagers never want to borrow them.
For years, anything without baby urp was considered dressed-up. About ten years ago, I upgraded my daily appearance and switched from t-shirts, ya' know the men's kind with sayings and places on them, to women's t-shirts embellished with a few ruffles or buttons.  Oh, and I started wearing earrings since little baby fingers were no longer trying to remove the lower lobe.
I entered the world as Mindy the Writer a few years ago and had to learn how to dress like a grown-up for the writers' conferences and meetings. Well-dressed women  were studied and I figured out what clothing appealed to me.
But, enough clothes for a week without doing laundry?  Socializing with my husband's co-workers in the evening? 
True confession, business women who know how to dress and don't consider barf and boogers fashion accessories, intimidate me just. a. little.
I worried about those evening business dinners, because I pictured  the men in suits and the women in sophisticated evening wear. Since I've spent the last 25 years playing dolls, my only example of business/formal dress is  Ken and Barbie. My ratty hair may make me look like a Barbie, but I don't have her wardrobe. I've bought more doll clothes than Mommy clothes, and that's why I have nothing. to. wear.
Not only did I need clothes, I needed shoes. My last pair of comfortable casual shoes were purchased when Scott and I traveled to Washington DC – 12 years ago.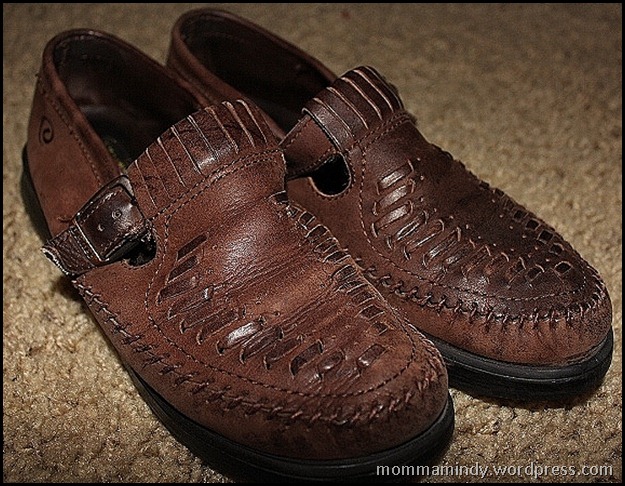 My daughters graciously informed  me they were out of style and told me I couldn't wear them.  I also had a pair of flats that were discarded by a daughter and wore them until the toes curled up.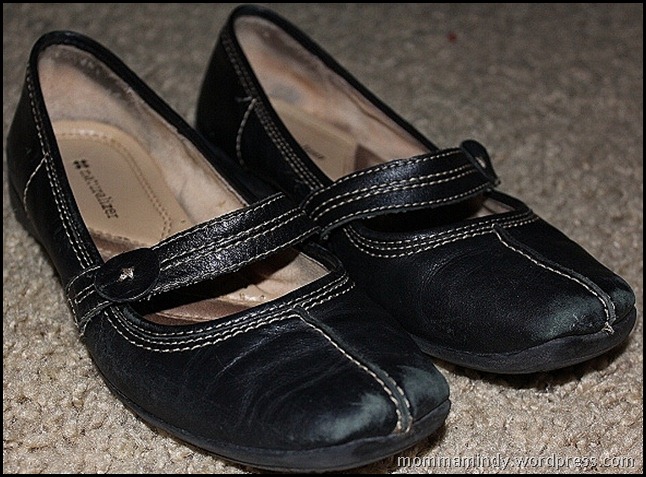 Scott informed me the "Elf Shoes" should go in the garbage.
I pictures totally stunning, amazingly cute shoes with a little bling.  I settled for cute and super comfortable
from the discount store Ross. My neighbor, Kelly-Across-the-Street, assured me buckles would fit in quite well in Amsterdam.  Duh, of course, the Pilgrims!   You can see they've already been well used trudging through Amsterdam and several pumpkin patches this fall.  I already owned a pair of black Born pumps and black flip-flops, so what more does a woman need?
Not only did I need clothes and shoes, I needed a purse.  My black purse was a hand-me down from another daughter who bought it on sale at Target. It had so many black scratches covered up with marker,  it was beginning to look  leopardy.  But, isn't leopard in right now?
Not only did I need clothes and shoes and a purse, I needed luggage. The last time I had a new large suitcase was my high school graduation, and if I'm a gramma, you know it's been awhile. That suitcase was given a decent burial a few moves back, and hadn't been replaced.
The one good thing about having four daughters, I have four females who have a great sense of style and shop on a budget.  That gene skipped my generation, because my mom can make an outfit outta' nothing.  My cosmetologist daughter took me shopping. I found a few shirts, a grown-up dress and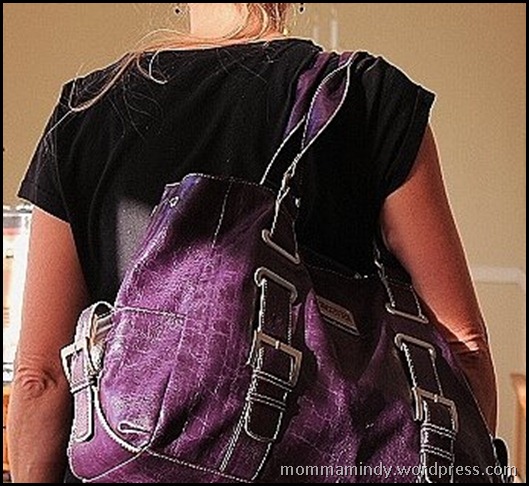 The Purse!   It was love at first sight.  Since I wear basically denim and black all the time, color was a good thing to add. (Side note: You know you're getting old when even your elbows have wrinkles.  *sigh*)
I summoned the courage to venture out all. by. myself.
I conquered the anorexic closet when I had nothing. to. wear.
Next, it's time. to. pack.

We'll make it to Amsterdam, eventually. Ya' know, women just can't drop everything and run…there's always too. much. to. do.