It doesn't take a Rocket Scientist to figure out men and women are different.
Really different.
Nothing demonstrates how different men are than observing ~
WHAT they pack
WHEN they pack
HOW they pack
The longer you're married, the more you'll look alike, the more you'll think alike, but you may never, ever, ever pack alike, unless you dress alike.
Another time our family traveled, I blogged about The Man Pack. I'm still astounded and jealous at the. man. pack and obviously, I have more to say about the issue.
WHAT?
A man can throw any pants and any shirts in a suitcase and wear them
in any order
on any given day
in any combination
without accessories.
A woman's wardrobe is MUCH MORE complicated.  So is a woman, come to think of it, but ANYHOO, back to the clothes. We have certain shirts that go with certain  jeans, the length of said shirts coordinating with the width of pant legs. We have certain shoes that go with the certain jeans that go with the certain shirts.  I don't know who invents the. rules., but we're slaves to them.  We dare not wear the wrong jeans with the wrong shoes and the wrong shirt, especially if teenage daughters are involved.

"Uh, Mom, ……you don't  um….wear that type of shirt with skinny jeans." 
"Mom, those jeans are really cute on you, but  um…well…um…you should be wearing flats."
"Mom. If you're going to wear your jeans tucked into your boots, they have to be skin tight.  They can't bulge around your knees, you look like a pirate."
Yes, I was called a pirate, but better a few moments of shame in the privacy of my living room, than public humiliation for not following the. rules.
(All those years I dressed my daughters, now they dress me.)

Speaking of fashion, we need the perfect accessories to go with each perfect outfit. Don't even get me started on the proper undergarments needed to insure modesty in a day and age where others consider underclothes  part of the outfit.
I'd heard Europeans were more formal and that I needed evening wear.  People warned me about over packing. I also knew I couldn't run to Target if I forgot anything. It would be rainy and  I'd be walking everywhere.  So, I had to look amazing while exerting physical energy in the rain.  Then, quickly convert to evening wear and look amazing while sitting in a restaurant with elegant working women.
I dreaded packing. I mean, I dreaded it.  The pressure was on, so I started the trial run of assembling "outfits" a few days before launch, hanging things together on hangers, and sometimes modeling for my daughters. There was no time in my itinerary for "Houston, we have a problem."  It had to be perfect for this once-in-a-lifetime trip.
When did Scott start packing? I can hear your curiosity rousing through the Internet.
WHEN?
The night before.  Fifteen minutes before bedtime.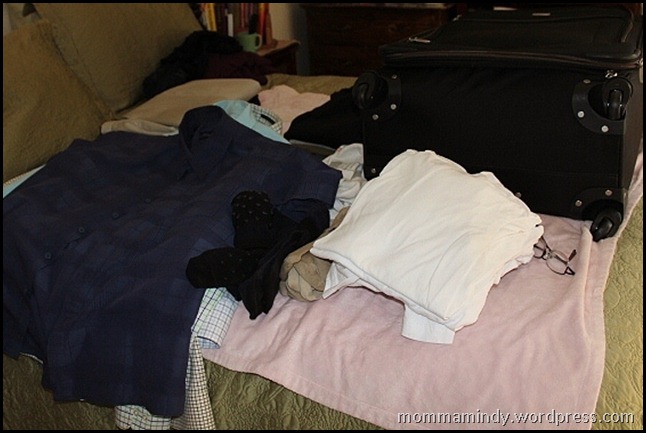 Yep, clothes for a week of business meetings, evening dinners and sightseeing all stacked in 15 minutes.
Fifteen minutes.
HOW?
Take small pile of versatile clothing that you've owned for months, and most likely years, fold good enough to get by, place in suitcase.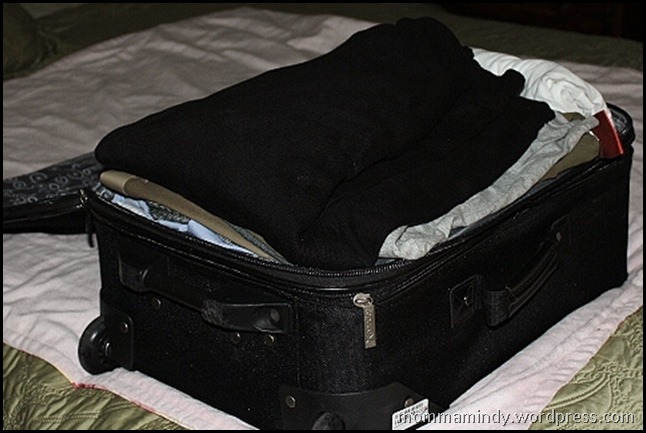 Yep, clothes for a week of business meetings, evening dinners and sightseeing all packed in 15 minutes.
Fifteen minutes.
D
U
N
Done. 
the. man. pack. takes less than 30 minutes,  less time than it took to pack my make-up.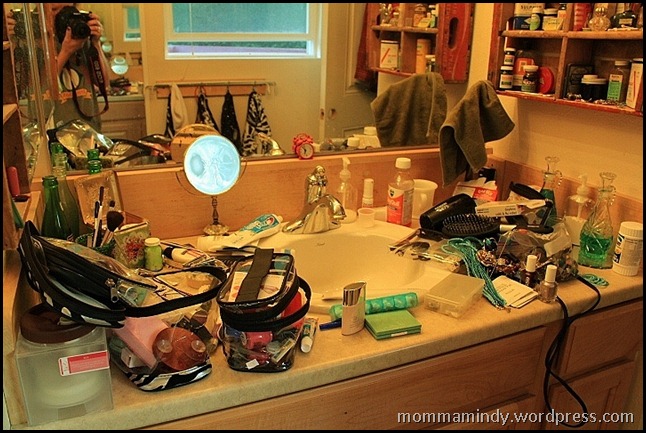 The bathroom looked like this for DAYS, maybe a whole week, while I tried to decide what make-up, jewelry, medicine and personal care items HAD to go with me. Then, they all had to be packed in  bags to avoid spillage.  My perfectly coordinating jewelry couldn't get tangled.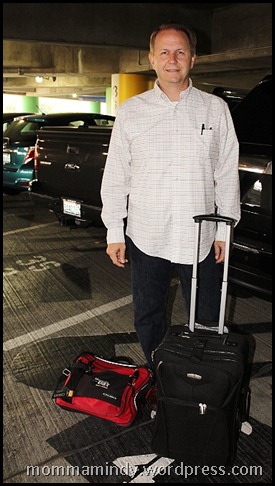 One big man,  one small suitcase.
A woman could fill up one of those little ones just with shoes.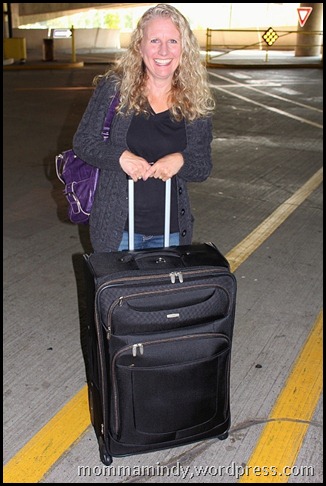 One small woman, one big suitcase.
Yea, baby, now THAT'S a suitcase. 
However, I'm already exhausted and need a vacation  for packing for vacation, because I followed
 the. rules.
Hubby, on the other hand, has not lost any time, energy or thought on his clothing, because he has mastered
the. man. pack.