Mondays aren't my favorite day of the week, I have to admit. I've admitted it before, I'll admit it again. Monday can have a bit of an icky feel to it.
Monday means I am facing another week of homeschooling, softball, baseball, laundry, housework, yard work and three meals a day. I am usually starting out with an empty fridge and a bit of a messy house from the weekend. I've reminded myself to say "I get to" instead of "I have to" when faced with the chores of a wife and Mom, but getting rid of the bad attitude doesn't get rid of the chores.
I learned to start our Mondays on Friday, but that still doesn't completely take away the feeling of Monday slamming into me when I'm not ready mentally and emotionally.
When I really dig deeper than the chores and the attitude of Mondays, I have to admit that my dread comes from the habit of viewing the new week as another whole week to face my trials. For some reason, I have this weird idea that by facing Monday, I'm facing seven whole days at a time.
But,
of the trials of life,
is just too much to face at a time.
I don't have the strength or the faith.
So, I'm reminding myself that Monday is just one day. It's not a week, it's one day. I can face one day. I can handle 24 hours, especially when I sleep through about 8 of them. I'm not facing a whole week of chores, attitudes and trials at once, I only have to face
(Google wouldn't let me upload the video, and I am too tired to stay up and fight with Bloggrrrrrrr. Click on the link to hear Lenna Martel sing this beautiful song.)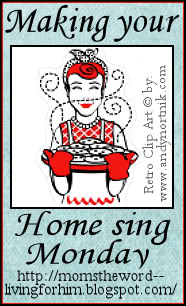 For other encouraging blogs to help you face another Monday,
click on the link above.