This year I've had the privilege of teaching my sixth child to read. Watching that lightbulb go on when they translate the phonics lessons into reading is an amazing experience.
Reading is so exciting because if you can read,
you can travel anywhere you want,
you can meet anyone you want, dead or alive,
you can learn anything you want to learn,
you can experience anything you want to experience.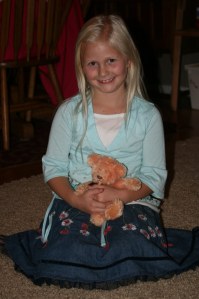 Even greater than the privilege of teaching my children to read, is the privilege of teaching my children about the Lord Jesus Christ and the Bible.
As I teach them simple truths from the Bible–
The Lord loves us,
He hears our prayers,
He speaks to us through the Bible,
His Son died for our sins–
These truths blossom in their hearts and their childish worship brings glory and honor to the Lord.
And when these two great teaching privileges entwine you have a glorious result:
Beka's First Poem
3 John 1:4
I have no greater joy than to hear that my children are walking in the truth.
Psalm 8:2
Out of the mouth of babes…
You have ordained praise,
Matthew 18:2-4
Then Jesus called a little child to Him…and said, "unless you are converted and become as little children, you won't enter the kingdom of heaven. Whoever humbles himself as this little child is the greatest in the kingdom of heaven."
Isn't that the end result we ALL want — to be in Heaven with the God "who is very, very good and He is love?"