Today, I was SEW happy to be able to use my new sewing machine to create a gift for a baby.  I had previously purchased a set of four receiving blankets, knowing the coordinating fabrics in light flannel would be perfect to remake.
I left two of the blankets as they came.  You never had too many blankets, with those little adorable bundles spewing  icky stuff from every bodily orifice  from head to toe.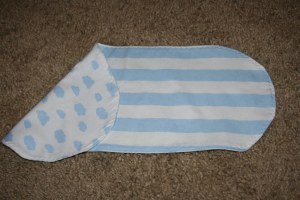 I used two of the blankets to make three reversible burp cloths.  I love the flannel, it is so snuggly against their little faces.  Plus, patterned ones look better thrown across your shoulder than the gauzy cloth diapers of my day. For little girls I like to edge them with a small ruffle of eyelet.
Burp cloths also keep your clothes clean from what my husband likes to call "momma goobies."  Ya' know, those icky things that get wiped or spit on all a momma's clothes?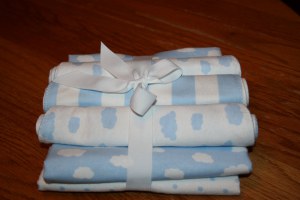 I was blessed, because just as I started sewing, my neighbor Kelly dropped in to ask Rebekah to play.  I invited them to stay, but Kelly jumped in and started helping.  As I sewed, she turned and ironed.  We were done very quickly and had a great time yelling above the highest-speed whir of my machine (it almost goes as fast as I want it to go) and the happy yells of our children.
We didn't use our inside voices the whole time because our kids didn't.  I'm from a big family, I didn't immediately  notice that my decibels were rising and rising as I talked to Kelly.  Occasionally, Kelly would remind her son to use his "inside voice." I learn things all the time from younger moms.  Growing up, I never knew there was anything called an "inside voice." I'm sure my Mom tried telling us, but it never stuck, we six kids just knew who yelled the loudest was heard the bestest.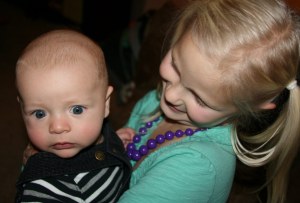 Later,  our home was blessed with another set of company, friend Naomi and her precious firstborn son, Aaron. He was happy and smelled good and we kinda' fought over who got to hold him, because we all love babies.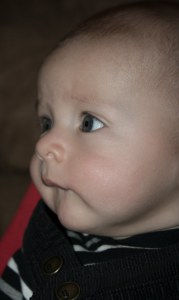 All I can think about when I see his adorable face is the line from Anne of Avonlea, "Oh, and cousin has the most delicious little baby."
And when I reflect on my day I think of all the blessings that were in my home today –
Psalm 127:3  "Children are a blessing from the Lord."
And, yes, I am counting my children in with that blessing, I am very thankful for them.
I was also blessed to have
two
good, encouraging MOMMY talks today.  That can be rare, but needed fuel to keep on another day, as a
joyful mother
of children.
And, that makes me SEW happy.