Every home with dimpled toddler fingers needs a touchable nativity set. There should be one baby Jesus they can hold and kiss and not worry about breaking.
I created this Peg Doll nativity scene with my grandkids in mind. It will be fairly easy for them to make and will endure years of playing and displaying. This is the third craft kit I'm sending to help my daughter, a busy mommy of five littles, prepare for the holidays. The others I created are Baby Jesus in a Nutshell and Cinnamon Dough. Instead of giving a craft you made, give the gift of crafting with craft kits.

Tips for Crafting with Kids:
Choose projects according to your child's attention span, not yours.
Set up ahead of time so they don't waste their attention span watching you pull out supplies.
Provide a craft shirt or apron. They will get glue and paint everywhere.
Expect spills and be prepared.
Initial projects must result in success to build interest and confidence.
Choose projects you want to display for years to come. They lose interest when you throw away all their art.
Their results will NOT look like yours. Put your OCD away and let "me do myself."
Don't multi-task while crafting. Give them attention and praise.
Don't punish frustration, soothe it. Everyone makes mistakes, what you do about it is what counts.
Praise them when they push through and complete.
Put name and dates on all projects. Yes, you will forget.
Take pictures.
Let them choose who to give completed projects to. They might surprise you.
If using hot glue, you put a small drop, let them use a toothpick or popsicle stick to push material onto glue.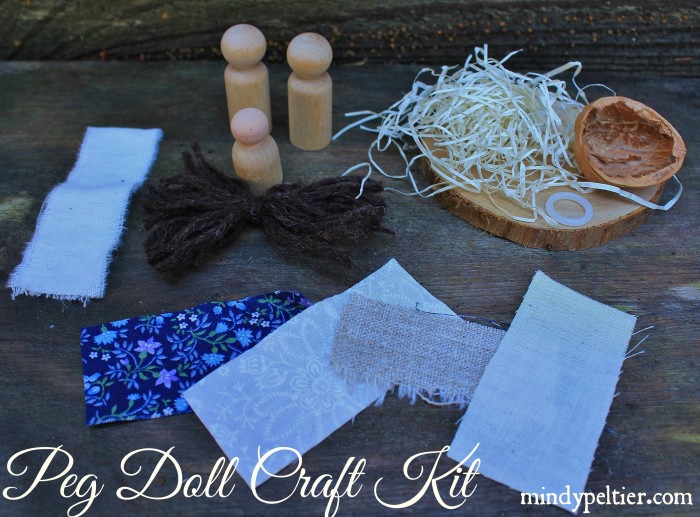 Peg Doll Craft Kit:
(2)  1 3/4 inch peg dolls
(1)  1 1/4 inch peg doll
(2)  2 3/4 x 1 3/8  rectangles, light- colored fabrics for headscarves
(2) 2 1/2  x  1 3/8  rectangles for tunics
(1) 1  1/4 x 6 1/2  rectangle for swaddling clothes
6 inch piece of jute (easier to tie, trim edges)
yarn hair (3 inch long pieces tied in middle)
1/2  walnut shell, cleaned out
(1)  1/2 inch plastic ring (glue to bottom of walnut for balance)
small bit of shredded paper or raffia
(1)   3 inch log slice
For older kids learning to use a ruler, you might want to include fabric and make them measure and cut their own rectangles.
Always include extra pieces and a ready-made sample.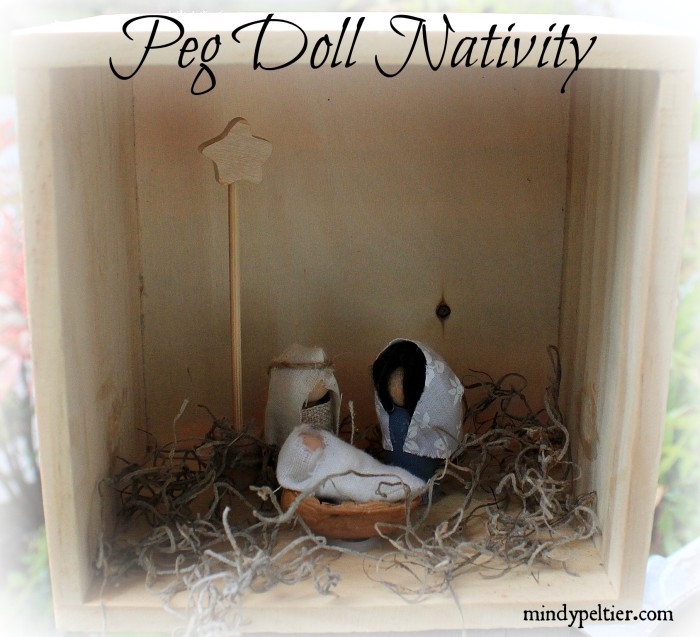 My craft kits were designed with what I had on hand. Why, yes, I do have an insane amount of craft materials in my craft room, even after giving away 50% of it in the past year. I'm into using what you have.  Be creative. There are many ways to adapt this craft according to what's in your craft stash, your decorating style, and the kids' age levels.
Variations:
display in a wooden craft box
paint the body instead of using fabric
add a face with permanent markers
add a jute or yarn beard to Joseph
use a mini grapevine wreath or Christmas greenery for cradle
for base use flat rock, ceramic tile, barn wood, or terra-cotta saucer
replace shredded paper with moss
add a star using small spool or bead, skewer, wooden star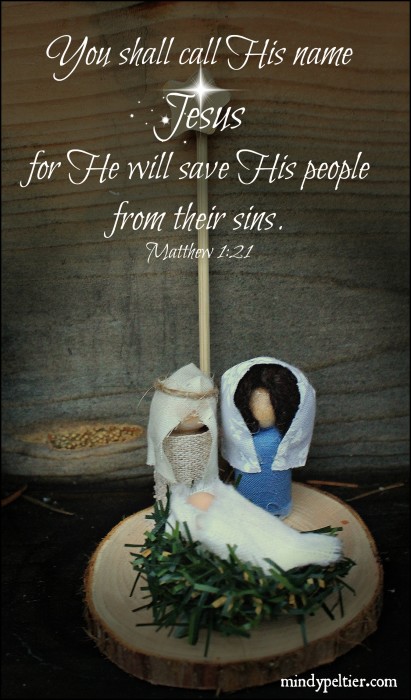 This touchable nativity set will allow toddlers to create and play their way into the real meaning of Christmas. It also might be around long enough for them to put into the dimpled fingers of their own toddlers some day.