Holiday memories are immortalized by all of our senses. The sense of smell, in particular, takes us immediately back to a time, a place, or a person. Have you every caught a whiff of something and it instantaneously caused you to smile or weep?
One of our family's favorite holiday scents is cinnamon. Cinnamon pinecones rest in an enamel bowls on the hearth and cinnamon ornaments hang from the fireplace or fill a bowl. Often an old red and white enamel pan simmers on the burner with cinnamon, sometimes with a handful of cloves or an apple or orange that went soft in the fridge.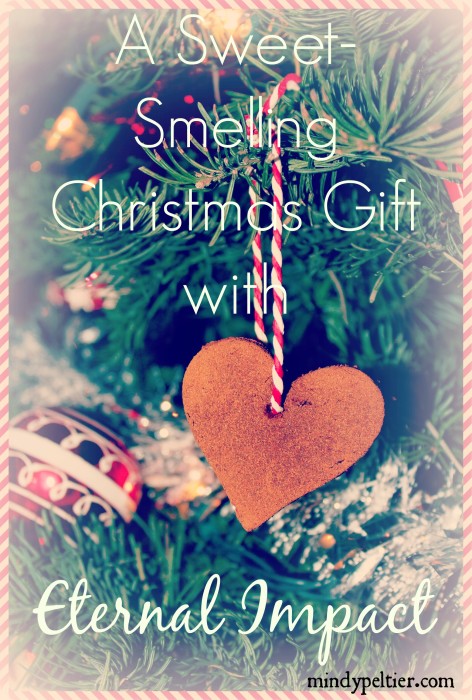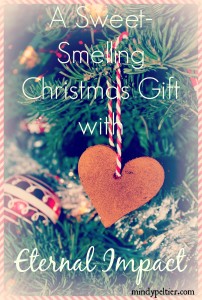 Cinnamon dough ornaments have been a holiday tradition for years. They're easy to make and are a gift suitable for men, women, and children. If you shop at any type of dollar store they will be inexpensive to make.
Last year I blogged about this craft and gave directions and a suggestion of how to use it for fall décor, as well. This year I am giving it as a craft kit, the second in a series of ways to bless someone with the gift of crafting. The first craft kit idea was Baby Jesus in a Nutshell.
I'm sending craft kits to my daughter and five grandkids, but there are many others you could bless. A busy Sunday school teacher might love help making the holidays special for her class.  An elderly person in assisted living  might not have access to all the supplies. Young missionary families on the field are still trying to create holiday traditions for their family. You can bless someone by making it easier for them to create holiday decorations and memories.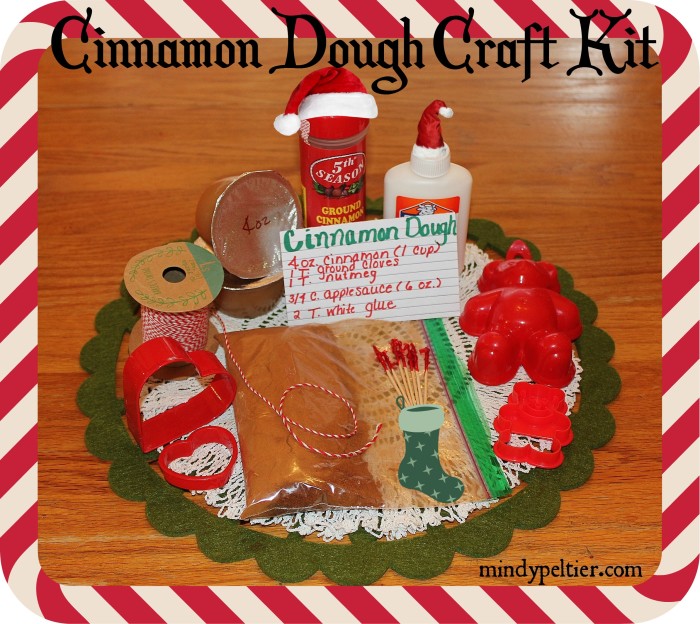 Isn't this photo cute? Thanks to PicMonkey I jazzed up my pics. My glue and cinnamon don't usually wear Santa hats. Oh, you don't know about PicMonkey? Good thing I wrote a tutorial on making those meme thingies. I wrote another tutorial on adding free fancy fonts from DaFont to Word, which then show up in PicMonkey. The font on the picture above is called Christmas Card.
 The Aroma of Cinnamon
Cinnamon Dough Craft Kit
Cinnamon powder mixture (cinnamon, cloves, nutmeg)
cinnamon for rolling out dough
two small containers of regular, unsweetened applesauce
recipe
white glue
toothpicks (to make holes in ornaments)
cord for hanging
cookie cutters
Helpful Hints:
Don't eat the dough. Smells good, tastes horrible, or so my kids tell me.
Roll out dough with a rolling pin or large dowel on a surface sprinkled with dry cinnamon.
If dough is too wet, add more cinnamon.
If dough is too dry, add more glue or applesauce.
Don't use a dented cookie sheet like mine to dry ornaments on, they won't dry flat.
A small coffee straw makes a perfect hole in ornament. I didn't have one.
Cinnamon oil can be rubbed on dried ornament to rejuvenate the smell.
These will take several days to dry. Plan ahead.
Don't touch for about 6-8 hours when first put on cookie sheet, then turn as needed.
If the children are very small, or the mommy very frazzled, you could mix up dough for them.
Blog with more details is here.
The Aroma of Your Prayers
There is another aroma gift you can give – prayer.
Revelation 5:8
When He had taken the book, the four living creatures
and the twenty-four elders fell down before the Lamb,
each one holding a harp and golden bowls full of incense,
which are the prayers of the saints.
Psalm 141:2
May my prayer be counted as incense before You;
The lifting up of my hands as the evening offering.
Do you know what Heaven smells like? The prayers of Christians go up as sweet incense to the Lord and the aroma fills Heaven. As you create the craft kit, pray for that special family. Include the Bible verses so they can teach their kids how special their prayers are to the Heavenly Father. He hears and smells their prayers. Even more than we enjoy special smells, our Heavenly Father enjoys the aroma of our prayers.
The sweet odor of the cinnamon dough ornament can be a sweet reminder of the impact of our prayers.
This Christmas fill someone's home with the scent of cinnamon and fill heaven with the aroma of your prayers.