Southwest Roast has become a family favorite. It's the perfect meal to prepare when you have big plans for the day, but want to come home to a delicious, healthy meal, instead of grabbing burgers and fries.
I'm not that clever in the kitchen. I love tablescaping more than cooking. But, after you set the table, you actually have to put food on it because the family expects to eat. What's up with that?
Just so you know, if you set the table in an enticing manner, company might not notice you overcooked the roast, or have lumps in your smashed potatoes. Or you could be a really good cook and use mismatched dishes and the family won't notice the table.
Once everyone oohed and aahed over my table setting, complete with nut-filled tiny wicker baskets edged with lace sitting by each place setting. My creativity came in handy because while they were nibbling, I was dividing the uncooked  meatloaf into muffin pans and trying to get them cooked in less than 15 minutes.
I shoulda' actually put the meatloaf in the oven, BEFORE I set the table.
So, when I do find a good recipe I can make successfully and my family loves it, I like to pass it on.
     Southwest Roast
     Place in  bottom of slow cooker:
2 cups dry pinto beans
water to generously cover the beans
one boneless beef roast (2-3 pounds)


     Add: (Double if you prefer spicy food.)
1 tsp garlic powder
1 tsp cumin
1  tsp oregano
1 tsp pepper
1 can green chilies
1 can Rotel tomatoes
Cook 20-24 hours on low. After about 18 hours, stir so the meat will fall apart. Add water if necessary as cooking.
Serve in flour tortillas with grated cheese, sour cream, and pico de gallo. 
I like to double this recipe because I cook for a large crowd and this makes great leftovers. To use less red meat, I double all the ingredients accept the roast. Just be sure there's enough water for the extra beans.
This meal can easily be started one evening when you are cleaning up after dinner. Then you have almost 24 hours when you will actually be able to answer when the kids repeatedly ask "What's for dinner?"
We've also started it on Saturday afternoon to have ready when we come home from church on Sunday.
My thoughtful hubby threw this recipe together one evening when we knew the next day was going to be really busy. Are you wondering about his special ingredient?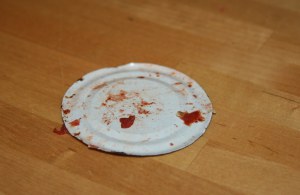 I discovered this in the roast while serving, but you really don't have to include it.
I'm pretty sure your roast will turn out just fine without it.
But that's not the secret ingredient.
Proverbs 15:17

Better is a dinner of herbs

where

love

is,
Than a fatted calf with hatred.
**********
Linking up!