My husband fondly calls me  "The Ol' Bag Lady" because of my fondness to organize everything, even my dinner, in a bag. Sometimes, he shortens it to just "Ol' Bag."  He may or may not be referring to my attitude, but certainly he is referring to my love for organizing with bags.
There are amazing women  who cook a month of meals at a time and throw them in the freezer.  It's a great idea, but my family is not particularly fond of food that's been frozen.
"The noodles are mushy."

"The hamburger tastes funny."
And those were just my complaints.   I know, picky, picky, but there's nothing like a freshly cooked meal.  It's another thing to fit in a busy life. It's easier to dream than do.
Other amazing women plan a week of meals and shop according to their meal plan.  I stand in awe.
Then, there are women like me.  I shop with a list and still forget items. The week I plan the entire menu is the week my husband ends up traveling out of town.  I grocery shop, but then am too tired to cook dinner. I'm embarrassed to admit how many days 4pm rolls around, or 5pm, and I'm slapping my forehead thinking, "UGH! Why do people in this house need to eat dinner every. single. night?"
We have a few standby crock-pot recipes, but it never fails, I run to the pantry and find I'm short one item. Or I discover somebody put the spice jar back in the drawer, but it was empty. GGRRReat!
That's when I had my
moment.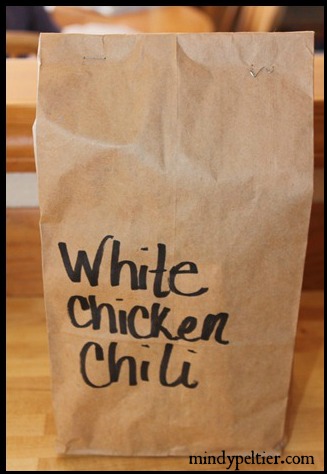 Yep, I have children.  My stapler never works correctly.  And I was lucky to find the black Sharpie in my junk drawer without stabbing myself with a rusty nail or box cutter.  Not Pinterest pretty, but Got 'Er Dun pretty.
The ingredients for one meal were bagged along with the recipe, the fresh ingredients to be added at the time of cooking are highlighted. Just in case anybody else wanted to make dinner. Anybody? Anybody?
Mindy's White Chicken Chili
Sauté until soft, about 5 min:
1 tablespoon oil of choice

1 medium green pepper, minced

1 large sweet onion, chopped

4-8 garlic cloves, minced
Add and sauté another minute:
1 teaspoon Kosher salt

½ teaspoon freshly ground black pepper

1 tablespoon ground cumin

1 ½ teaspoons ground coriander

1 teaspoon chili powder
Mix in crock-pot or large kettle:
4 cups low-sodium chicken broth

2 limes, juiced

¼ cup chopped cilantro leaves

2 (14.5-ounce) cans white beans (drain, mash one slightly)

1 rotisserie chicken, remove skin and shred meat

 sautéed mixture
Although this is called "chili" it is more of a chicken and bean soup.  It is quick, easy and filling on a cold, rainy day, which is nearly every day during the winter in the Pacific Northwest. We serve with sour cream, grated cheese, and tortilla chips.
The other recipe  I bagged up for the pantry is the Southwest Roast. It's one of the few other recipes I've blogged, I'm not really a recipe kinda' girl.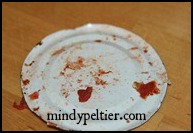 The Southwest Roast with the Special Ingredient was another popular post because the recipe is simple and delicious.  You start is 24 hours ahead of time, so when you're cleaning up dinner one night, you throw the ingredients for tomorrow's dinner in the crock and go to bed.
Get a organized with your family's favorite recipes so you can have dinner in the bag.
 Other ways I've used bags to organize my life: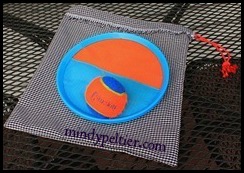 For years (OK, I have to admit, I should use the term decades here), I've sewn drawstring bags to organize toys at home, in the car and to use as gift bags for toys I give away.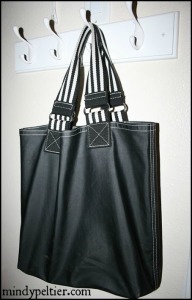 I wrote an organizing series called Flying Frantic, which describes the lives of most women.  We have more people, projects, and personal goals than we know what to do with.  The post on using tote bags to organize your life according to commitments was popular. I have one bag for church, one bag for homeschool coop, and one bag of special things for my daughter in the car.