The moment you become a mother, your hearing enhances.  It has to. Since we don't have periscope eyes that can see around corners, or Superman's X-ray vision,  the ears make up for what the eyes can't see.  A mother's hearing will become so acute, she'll hear the slightest whimper in the middle of the night, or the bum rumble that indicates a diaper needs to be changed before the crying even begins. As the child gets older, she'll be able to tell by the creak of the hinge which cupboard a child is in, or by the crinkle of a package which food the child is getting into.
Although having nearly bionic ears can be a mother's asset, there are words that bounce through the inner ear canal and make a grown woman tremble in her scuffed up slippers.
1.  "OOPS!"
What you just warned your child about in the last five minutes just came true. The kids will think you can see through walls, but your warnings are actually  prophecies. You can foresee what will happen because parents just know these things. Kids never believe that setting their milk cup near the edge of the table will increase their chance of spilling it.  They will think you are wrong until they're a parent wiping up milk.
By the way, the louder the child says this word, the longer it will take you to clean it up.
2.  THE SOUND OF BREAKING GLASS.
The more you cherish an item, the longer you've owned it, or the harder it is to replace it,  the more likely it will be broken. If it's easily replaced or something you found for a quarter at a garage sale, it will be with you until the kids leave home.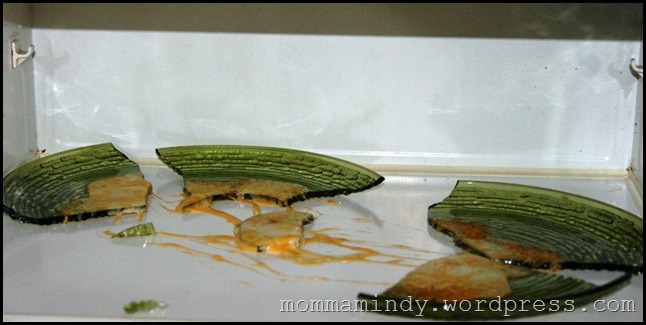 In that case, they can take it all that cheap stuff with them when they move out and you can replace all the stuff they broke.
3.  "I'M TELLING MOM!"
The kid who's yelling doesn't think that what they did to start the fight is as bad as what the other kid did in retaliation.
If the chant is done in a sing-songy voice, it indicates that the child is happy to get the other one in trouble and the damage is minimal. 
If the tone is childishly ferocious, the altercation could have become physical.  There was some pinching, biting, scratching, shoving, slapping or punching done.  However, a child is slow to confess unless the parent has correctly described the altercation with the correct verb.  Feel free to ask about every type of action you can even think of because if you asked if they pushed, when they think they shoved, they will feel the freedom to say no.
4. "I'M BORED."
In my house this is always followed by one of two parenting tidbits of wisdom.  "Only boring people get bored" or "Then go clean my toilet."
Any one of my children had more toys than all their grandparents put together had in a lifetime, so there is no reason to be bored.  Plus, they always had arts and crafts supplies available, stacks of games, lots of siblings, a gajillion books and use of the sewing machine and kitchen.
They might also get a lecture on being thankful, being a servant, finding something to do, being constructive or the joyous life a freedom a child has.  Sometimes for good measure, you can throw in a lecture on how much work you had to do as a child.  Rotate the lectures so they don't get bored.
5.  SILENCE.
This is the worst noise of all.  You have to learn to listen for this noise above all noises.  It means that someone has done something unusual, something you hadn't suspected, something out of character and something creatively, geniusly, hilariously dangerous or disastrous. 
In the case of silence, move quickly to the quietest room of the house with camera in hand.  Ensure child's safety, then take pics.  There's always time to clean up – later.
When your kids are teens, you will need all the bribery and blog fodder you can use.