I have six kids. 
From the time I was eleven and got the Sunshine Family for Christmas I wanted six kids. I was happily playing in my purple bedroom and decided I loved these dolls so much I'd save them for my kids. Then I decided I was so happy in my family with five siblings, I would have six kids, just like my parents.
Years later, when I gave birth to our sixth child, I knew my life was complete.  My childhood dream came true.  My husband and I were happily blessed with a full house and full hearts. 
What I didn't know was how my decision would affect other people. Strangers dared to make comments about our large family. Some would even dare blame world overpopulation issues on me.  I didn't accuse them of lowering the IQ average of the world, I just politely smiled.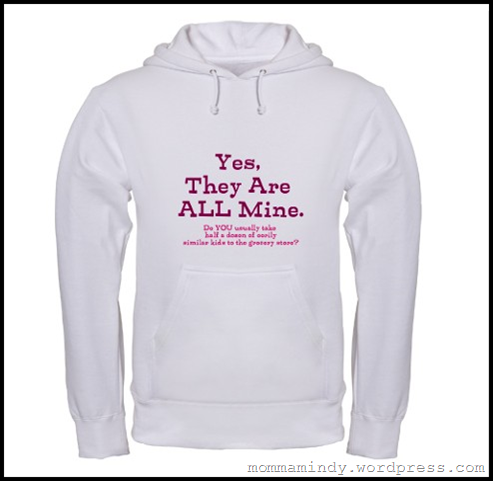 I wish I would have had this sweatshirt then, it might have stopped me from having to answer the same question over and over every time I went out in public. (Click on graphic to take you to the site where you can buy this shirt!)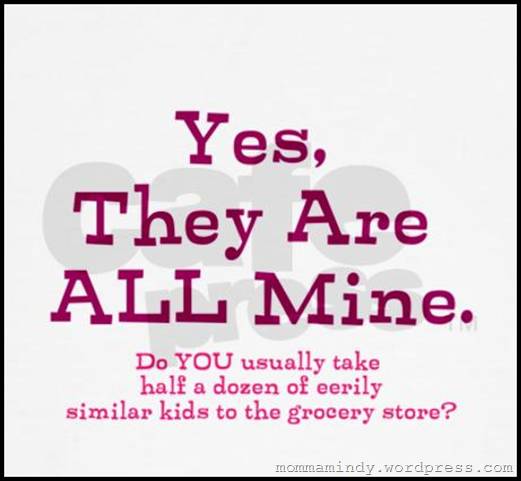 They assumed I didn't know where babies came from and offered procreation advice. As a Christian woman who believes in abstinence before marriage and faithfulness during marriage, I was always a little shocked and mortified that strangers would suggest my family size had to do with  ignorance or immorality.
I  smiled politely at their insensitive and offensive comments about my bedroom life, knowing my answer to their rudeness could cause further judgment upon my large family.
Only the bestest of a best friend has the right to ask,  "So are ya' trying to have another?"
(Besides, do you  REALLY need to hear the answer on that?)
Because I love my family, it was a joy to graciously answer those rude questions and inform people ~
I want them and know how to make them. 

They were all planned.

They were all born after we were married.

YES THEY ARE ALL MINE.  Rather OURS.  They weren't from the milkman, the mailman, the UPS man, the Fed-Ex man or the Garbage Man.

We considered children a blessing from the Lord.
While having dinner with a couple that were business associates, the perfect dual income American couple with one boy and one girl, she actually said, "Well, you know, they say people have a lot of kids to do all their work for them."
I was dumbfounded, but not dumb.  I prayed for wisdom and the Lord gave it to me.
"Did those people ever think if I didn't have all these kids, I wouldn't have any work to do?" 
"Oh, I never thought of that," she said.
She was a highly educated and successful woman that couldn't understand my career was to being a mother.  I didn't create children to do my work, having children created a lot of work for me. But it's a job I chose and love.
Like many parents of large families in America, I discovered we were sitting duck when we took our clan out in public. The comments were astounding.  I would never walk up to a woman with only two kids and say the opposite of what was said to me. Besides, I was raised in a family where we were taught manners.
You must not know what causes this, could you use some pointers?

Are you trying to have more?

How come you only have two?  Don't you like kids?

Aren't you worried your kids won't be socialized because they don't have enough siblings to play with?

Are they both yours?  Were they born after you were married?

With only two kids, are you sure there's enough love in your family?

You haven't been very busy, have you?

Are you aware of the health issues birth control can cause?

Your hands are certainly empty.

You must not be very patient at all.

You're overpopulating the world, since the average is 1.8 kids.  Why didn't you stop at one?


Are ya' going after the mailman or milkman since your husband only gave you two?
So, as we laugh at what people say about big families and laugh at what we'd never say to small families, let's be united in this thought; whether you have one child, six, or ten, being a parent is the hardest job we'll ever love.
Parents of a few children devote as much prayer, sweat, and tears as parents of large families.
Parenting isn't a contest, it's a calling.
The win isn't who has the most kids, the win is being the best parent you can be with what you've been given. The win is supporting other parents along the way, despite differences in faith, education, and family size. The win is using the Lord's standards in raising your kids, not your man-made ones. 
But, next time you see a mom with a grocery cart full of kids at the grocery store, just don't ask her if they're all hers, ok?
**********
If you want to read more on this topic, I wrote a follow-up post using the humor and wisdom from the comments below. 
Best Answers to Big Family Questionable Questions