The first time I tasted an Italian soda was at my niece's wedding.
My amazing sister-in-law, Susan, cooked the ENTIRE wedding meal for her beautiful daughter, Kjersti. She even made  biscotti to go with the coffee.
.
In their honor, I copycatted one of their ideas for Grace's graduation open house and served Italian sodas. They're fun, festive and since the syrups come in a huge variety of flavors, there's something to please everyone.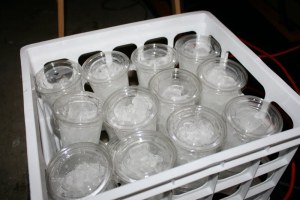 Because I knew it would be a bit fussy to serve, I bought plastic cups and lids from Cash&Carry and filled them with ice ahead of time.
This crate held 24 cups and went  right into the freezer. If there had been room in the freezer, I would have filled more cups. It was a great time saver!
We set up the display, using little cups from Beka's toy dishes so each flavor had their own one ounce measuring cup.
The pumps were more expensive than the flavorings, so we didn't buy them for the party. We bought a strawberry, mango, blueberry, vanilla and my personal favorite, Tiramisu.
The directions were printed out and displayed behind the bottles.
 ITALIAN SODA RECIPE:
one ounce of flavoring,
one ounce of half-and-half,
then fill the cup with Club soda.
Others buy the domed lids and top off with whipping cream.
I toyed with the idea of making labels for the cups, but never came up with any great ideas. Am taking suggestions….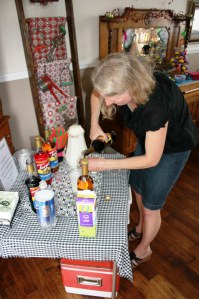 Of course, Grandpa Jim Kinghorn's vintage cooler held the Club soda and half-and-half below.
Note to self for next function:
I was wishing I had asked someone to be the Soda Jerk for the party. There are always friends who would love to help, and it would have been great to have someone manning this station and someone else to refill food trays. If you are hosting, it's really important to be able to mingle with your guests.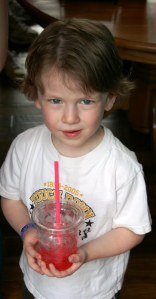 An adorable guest enjoying a strawberry Italian soda.
I plan to keep my shelf stocked with cups, lids, straws, and club soda so all our summer get-togethers will feature our new favorite beverage ~ Italian sodas!