While decorating for Graduation, Rebekah came up with the great idea of just pinnning the yo flowers to the wooden deck railing.
We were running out of time, and the job needed to just get done.
There would be no fabric swoons or buntings, we would have to just use what was finished.
Great idea.
But, great.
Where would I find thumbtacks?
I had a vague memory of thumbtacks squirreled away somewhere.
They were in something of my Gramma's….
somewhere….
After a few false digs through drawers, I found them.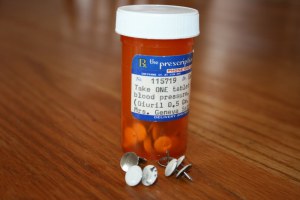 Oh yea, they were in the old prescription bottle on display in my bathroom.
What?
You don't decorate with  the bottles from YOUR gramma's old blood pressure pills?
There are a few things I inhereted that are just too precious to change. I was given her three drawer sewing cabinet, with tid-bits that could tell tales if they could speak.
She saved everything.
She used everything.
She had to.
The daughter of Norwegian immigrants married to a Norwegian immigrant,
hard work
and the
"make-do or do-without"
ethics ruled their lives.
It was survival of the fittest and the frugalist at its best.
The Lord chastises lasiness and wastefulness, too.
Proverbs 18:9
He also that is slothful in his work
 is brother to him that is a great waster.
A cough drop tins holds tiny screws and nails.
An aspirin bottles hold needles.
Every container holds a surprise, including the one that holds her extra garter belt hooks.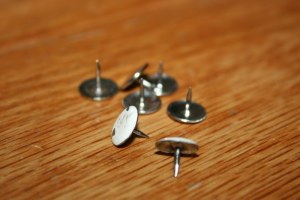 I wondered how old these thumbtacks really were.
I can't imagine Gramma bought them new, she probably bought them used,  or found them, but I know she hoarded them.
What did Gramma use them for?
Hanging up the new calendar from the grain elevator?
Pinning a shopping list to the inside of her kitchen cupboard?
Or did she save them
     just
          in
               case
                    she needed them?
There was a heart-warming nostalgia I felt as I touched each metal tack, and I felt that in some small way, Gramma was celebrating Graduation with us.
And, when Graduation was over, the thumbtacks were carefully removed and returned to the medicine bottle.
Those little metal thumbtacks are a silent prick to my conscience, because each generation has become a little more affluent and a little more wasteful, compared to Gramma.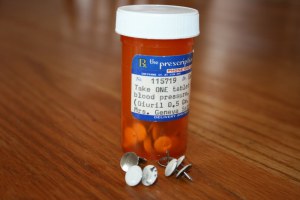 I wonder if any of my kids or grandkids will bethrilled to inherit
one of my most precious  possessions ~
this little bottle of thumbtacks,
the silent preacher of the values of our ancestors.