I love
the Lord's creation.
I love
to take pictures to capture His glories.
When I am inside a car, I still want to take pictures.
I don't want the glass and the moving vehicle
to come between my camera and the view I am experiencing.
I just don't see creation, I feel it, I hear it.
You see, Creation preaches a message.
For since the creation of the world God's invisible qualities
—his eternal power and divine nature—
being understood from what has been made,
so that men are without excuse.
As I watch each the scenery unfolding at a rapid pace through the finger-printed windows,
and I am hearing His voice,
I always want to capture something of the experience.
So, I shoot through the window glass.
Usually, I shoot through my side.
Other times, I might quickly say to my husband,
"Lean back!"
He does.
Isn't he nice?
Someday, he wants to blog about what it's like to be married to a blogger.
I've been keeping files of my favorite "Through The Window Pictures."
(click to enlarge any picture)
On the way to Montana last fall.
Can you see why Montana is called The Big Sky?
It's big.
It's blue.
It's brilliant.
It is NOT Photoshopped.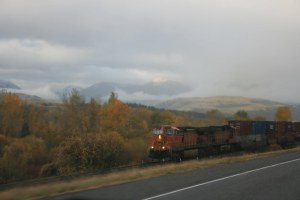 No, he didn't duck. I was driving.
I know.
Don't try this at home.
I'm an experienced non-professional.
It is my favorite shot from the whole year.
These rocks remind me of a Creation Scientist
He talked about the upheaval in the earth's crust because of the Flood.
Here, the earth's layers have been twisted vertically.
I always love to imagine what is around the corner.
A curve in the road,
a bend in a creek,
are both enticing,
making me wonder what's ahead.
In anticipation, I keep my camera ready.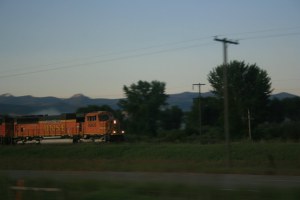 Another train.
Another moment captured.
Through the glass.
I'm listening, Lord.