We had our first 5 kids in about 9 years. After a 7 year gap, we had Rebekah. Other people might call that last child
an oops,

an afterthought,

a surprise,

or

a caboose.
We simply call Rebekah Joy our
joy

.
She had no siblings close in age, so when she was a baby I decided I'd play with her every day.
Play is a child's work. It's crucial to their development. Not that I need the approval of worldly philosophers, nor would I probably condone most of their works, but sometimes I like to prove that Moms know best.
(These experts probably got their ideas from their moms, anyway.)
The older kids were kind and good to her, and also made her life special by playing with her, but I still felt a determination to enjoy playing with her those early years to make sure she had the kind of fun childhood her older sibling had.
We still love playing together, although it's no longer needed daily.One time we were playing with my Strawberry Shortcake dolls. (Yes, they're mine.  You didn't read that wrong.)
The girls were going on a trip and needed sleeping bags.
I quickly cut  a simple pattern on cardstock, included the little rounded part for a pillow, then cut them out of soft light green fleece.
"Whoever wants to understand much must play much."
Gottfried Benn
German physician
We simply folded them in half and Beka sewed them together.
"Play gives children a chance to practice what they are learning."
Fred Rogers
American television personality
(Yea, way to sneak in a sewing lesson, huh?)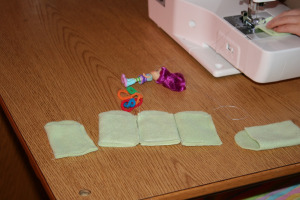 I learned long ago to not be picky when kids are sewing. We only rip it out if it is really, really bad.
"Almost all creativity involves purposeful play."
Abraham Maslow
American psychologist
Beka's seams were all fine.
"Children learn as they play.
Most importantly, in play children learn how to learn."
O. Fred Donaldson
Contemporary American martial arts master
We rolled them up with small hair rubber bands and put them on like backpacks.
"It is a happy talent to know how to play."
Ralph Waldo Emerson
(Emerson says I'm talented?)
Now the Strawberry Shortcake Dolls are ready for vacation!
"In our play we reveal what kind of people we are."
Ovid
Roman poet
(People that need a vacation?)
Tucked in for the night.
"In play a child always behaves beyond his average age,
 above his daily behavior.
 In play it is as though he were a head taller than himself."
Lev Vygotsky
Russian psychologist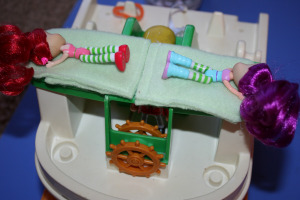 They also worked well for sun-tanning on the deck of a vintage Fisher Price boat.
"Creative play is like a spring that bubbles up from deep within a child."
Joan Almon
Contemporary American educator
Back to playing with my
joy.
"Children need the freedom and time to play.
Play is not a luxury.
Play is a necessity."
Kay Redfield Jamison
Contemporary American professor of psychiatry
Play is Rebekah's work, remember. And I didn't need the professionals to tell me that.