When we moved from the upper midwest to the PNW seven years ago, I thought I had moved to another country. The people were different, the accents were different, the traffic was different, and the clothing was different.
The food was different – really, really different.
At times the differences were so overwhelming, it would drive me to tears. I kept telling myself that if the early pioneer women could make it, I could make it.
The first time we had a team from work over, we'd lived here only a year.
We still cooked MinnesOtan. 
I prepared the best I knew, Velveeta Cheese chili dip, barbecued Little Smokies, and spicy meatballs. I also had a veggie and fruit tray, rolled-out sugar cookies, fudge and a few other holiday favorites.
I was pretty proud of myself, until I noticed the guests hardly ate anything.
Recently, we had my husband's new team over to kick off the new year. My amazing kids helped me update our company menu to see if people would actually eat our food. Grace, my neat freak, helped with cleaning. Bethany cooked and Jon washed the dishes. Beka traipsed around helping everyone with her cheerful attitude.
We didn't break anything.
We didn't get our
hair
caught in anything.
We had a wonderful day working together.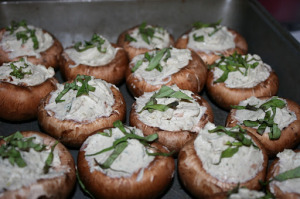 Stuffed mini Portabella mushrooms
Sockeye Salmon Dip, Kalamata olives, Manzanilla olives
Dill Havarti, Brie, Gouda, Smoked Gouda and French Abbaye Cheeses. It looked amazing with the fresh, lush clusters of grapes, but I forgot to take a picture before it was served. We served the traditional fruit and vegetable trays.
We didn't buy the standard Wheat Thins and Triscuits, we bought those fancy crackers.
I know, right?
Compared to the generic crackers I bought in early marriage, Wheat Thins and Triscuits are upscale. (Wanna' know a secret? We still buy them when we don't have company.)
For desert we had chocolate truffles, dark chocolate covered acai berries, and Grace's white-chocolate dipped strawberries.
The best part of the evening?
The guests ate the food.
We enjoyed animated conversation and people would often pop up to refill their plates.
I suddenly realized why my Gramma loved to see people eat – there's such a satisfying feeling of knowing company is enjoying your food. Or, in my case, my daughter's food.
The food  we served was definitely not'cher Minnesotan fud.
*****
What's your favorite food items to serve guests?
Have you had any failures like mine?
I'd love to hear your stories.