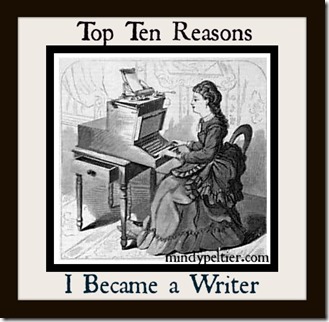 I Iove obsessing over which preposition to use and  which one to end a sentence with.

     I wanted a job where I could work in my jammies.

      I like to work and not get a paycheck. It's not completely without its rewards, I've been known to buy myself chocolate. Lots of chocolate.

      The only way to make the voices in my head stop talking is to write down what they're saying.

       Writing is cheaper than therapy. Which means I don't have to leave the house to see a therapist. Which means I can stay in my jammies.

      I like hanging around other people who plot murder scenes while waiting at a red light or write interesting biographies for all the people that innocently walk by.

      I wanted a job nobody else considers a real job.

      I like the feeling of knowing I never know enough and always have more to learn.

      When people know you might write about them, they're nicer to you.