When my kids were young,
my days and nights were filled with their needs.
I put food in one end, and wiped the other end,
and often wore it if it came up in the middle of the journey.
I dressed and re-dressed them as accidents occurred.
One day could easily equal several loads of laundry,
especially if you have bed wetters.
One day with little ones could easily produce several catastrophes.
One pair of scissors can cut your favorite afghan,
precious curls from a little girl's head,
a hole in vintage curtains,
a check that needed to be cashed.
For years, it seemed like I didn't sleep through the night
or eat an entire meal – warm.
I had little ones clinging to my hands, my legs and my skirts.
If I wedged myself away for a few minutes,
to do something extravagant like use the restroom by myself,
they might sit outside the door and wail as if I'd never be back.
But with love and joy,
I pressed on.
I was often tired, but always loved what I was doing.
I kept wiping, changing, comforting, holding, rocking,
giving everything to the career of my choice – Motherhood.
Somewhere in the daze, I started sleeping and eating
and their hands started serving.
After 25 years of marriage,
and 24 years of parenting,
they're really giving back.
Now their hands hold me,
comfort me,
feed me,
pray for me,
do my laundry,
and serve me daily.
Our 25th Wedding Anniversary was a celebration prepared
with the hearts and hands of our children.
The kids made delicious hors d'oerves so we could nibble and
stretch out the evening.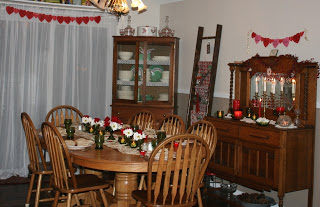 They cleaned and decorated the living room and dining room.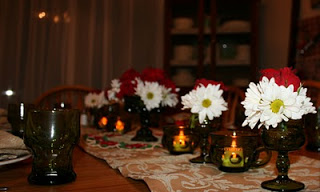 They purchased and arranged fresh flowers,
and had battery tea lights flickering atmosphere everywhere.
The banners were the heart of the celebration.
They cut out 25 hearts out of scrapbook paper
and instructed Scott and I to write down
25 blessings from
25 years of marriage.
I was given strict instructions to not think about our current
trial,
and celebrate the blessings of our life.
Later we enjoyed a wonderful brisket meal with all the fixings.
Our desert was a marvelous chocolate cake with fudge
dripping out of the middle, topped with strawberries and whipped cream.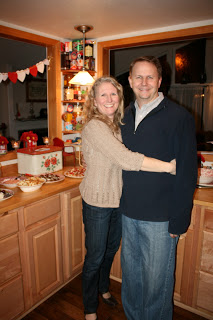 And all those years of pouring into our kids?
They're pouring right back.
We do have much to celebrate…
and although writing down 25 memories was great,
it reminded me that we have much,
much,
much more
than 25 things to be thankful for.
But on the top of that list,
were our six children.
Psalm 127: 3-5
Behold, children are a heritage from the LORD,
The fruit of the womb is a reward.
Like arrows in the hand of a warrior,
So are the children of one's youth.
Happy is the man who has his quiver full of them;
They shall not be ashamed,
But shall speak with their enemies in the gate.