Aromas are an important part of our holidays and with these last-minute gifts, you'll create sweet-smelling gifts and memories.
The first gift has been a family tradition since my kids were very small.  Scented Cinnamon Ornaments are easy to make, especially with little kids. It's a stiff dough you mix up, cut up with cookie cutters, dry for a few days, and string up with colored ribbon or twine.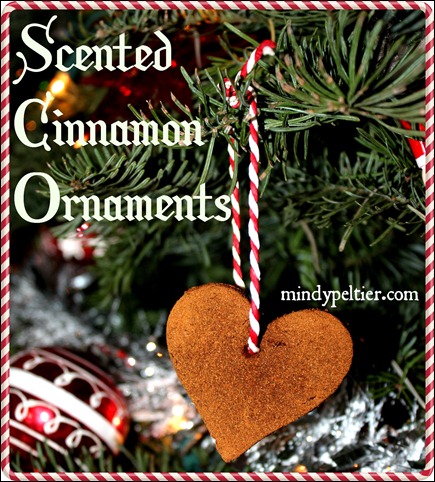 Love the Christmassy font?  I used Christmas Card from DaFont.com and the border from PicMonkey. If you buy your cinnamon at a dollar store, they will be inexpensive to make. I know for a fact if you mix up the dough and don't use it for two years, you can add more glue and applesauce to make it the right consistency. Yes, this has been a three-times-a-charm homemade gift for us. But you don't have to take so long. You can mix, roll, and cut the ornaments today, allow 2-3 days to dry, and be ready for Christmas!
Scented Cinnamon Ornaments
I roll ours out with extra cinnamon and gently pat more into the top of the ornament. The scent will fade eventually, but can be renewed with cinnamon oil. If there are any cracks in the ornaments after cutting them out with cookie cutters, gently pat them back together. The dough can also be pressed into mint molds or hand shaped into any artistic shape. The thicker the shapes are the longer they take to dry.
A friend told me she put the cinnamon bear I made in her bathroom and shower steam fills the room with cinnamon scent.
A fun fall idea is to cut the dough into small shapes using miniature leaf cookie cutters. I also cut orange peels into fall shapes and dry them. Add some cloves, a clove studded tangerine, whole allspice, and cinnamon sticks, and you have a sweet-smelling fall display.
These ornaments don't have to be packed away with the Christmas decorations, they can be hung in your home or tucked into drawers.
Lemon Verbena Soap Sachets
Another gift I made this year has also been a family craft favorite since I was a newlywed. A dear friend, Ilona, was a crafty woman, but in the early years of marriage with a three small kids, no sleep, and no budget. I wrote about the kitchen stool I received as a shower present, but her other handmade gift is equally as memorable.

She wrapped bars of soap like presents with a country blue calico, the rage of the 80's, and delicately decorated with lace and tiny blue flowers. They were intended to tuck into drawers to keep clothes smelling wonderful, but they were too beautiful to hide and I displayed them in my country blue bathroom for years.
This year I wanted to repeat Ilona's soap sachet idea, but needed a soap with a smell that would be pleasing to men and women.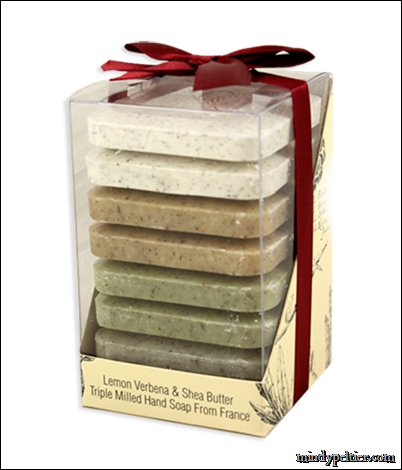 Trader Joe's had exactly what I didn't know I was looking for. I loved the smaller size of the Lemon Verbena & Shea Butter bars.
Not to be stingy or anything, but these sweet-smelling little babies end up less than $1 each, that is, if you have a fabric and button stash that could last the neighborhood through World War III.  I made them for stocking stuffers for adults in the family that don't need anything. Don't worry, not all my family reads my blog. Except my Mom.  Hi, Mom!  I love you! They might not even know I'm a writer. Or maybe they read and don't tell me because they want to know what secrets I'm sharing.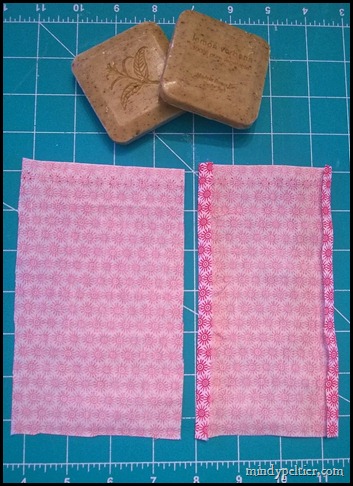 The fabric is roughly 4 x 6 1/2 inches. It makes it a lot easier if you iron the edges over about 1/4 inch. Wrap like a present. I used a hot glue gun, but it made some of the seams a little bulky. Don't look too closely! This was a "get-er-dun" kinda' craft, and I locked my OCD tendencies in the craft closet. Years ago they were made with tiny stick pins pushed into the soap. Probably in case they wanted to take them apart and eventually reuse the material and the soap. I'm sure that's what my Gramma Geneva would have done!
Decorate. Sniff. Wrap. Sniff. Give. Sniff. Mmmmm, Good!
These two Christmas crafts are easy to make and will leave loved ones with  the aroma of cherished holiday memories long after the Christmas decorations are packed away.