I never really know what to expect of myself. I mean, I just never know what I am going to end up doing to embarrass myself. Well, I mean, I should have been embarrassed.
Ya' know how doctors are ALWAYS late? Ya' know how you hate just sitting there waiting with nothing to do except read five year old magazines with the all the good recipes ripped out and each page crawling with germs from all the sick people? I had an endocrinologist appointment and I decided to take matters in my own hand when I discovered there were NO magazines in the room. I reached over and helped myself to a glove. I figured I would be waiting a long time and I had to entertain Rebekah.
She was a bit mortified that I would help myself to a glove. I assured her that it was perfectly fine and since I was paying $500 for a 20 minutes visit, we could have ONE glove. I showed her how to blow it up and we were discussing all the cool things it could be. I was ready to tie a knot in the bottom and play HANDball when…..
…the doctor came in….on time…..and a bit surprised. The highly educated, very experienced, brilliant, people-helping doctor came in to find me with my cheeks puffed out and my daughter staring at me with mortified admiration.
He barely raised his eyebrows, and went on professionally with our visit. I had to do all kinds of challenging things like swallow water with his fingers pressed on my throat, remember the difference between inhale and exhale and try to follow his finger with only my eyes and not my head. Why is that SO challenging for me? At the end of the exam, Rebekah was a bit confused to see this nice, older gentleman thumping on her mom with a hammer. When I sat down next to her, she whispered, "Mom, did it hurt?"
He kindly showed Rebekah how he actually wasn't pounding her mother, he was actually hitting his thumb. I actually laughed out loud. I had the audicity to say, "You went to years of medical school and they taught you how to hit your thumb with a hammer!?!?!" To a woman from a long line of carpenters who do anything to AVOID hiting their thumbs with their hammers, I thought this was hysterical.
After laughing at my highly educated doc hitting his thumb with a hammer, I tried to restore order by asking all my questions and finding out a little more about treatment.
Good News #1 – My cancer is stage one
Good News #2 – My radioactive iodine treatment can be scheduled anytime I want in the next six months – he just advised to not do it during the holidays because I have to be on the low iodine diet. Yea! I won't have to waste a good summer eating passover bread, 2.5 ounce chunks of meat (only 2 a day), and avoiding all good things like pre-packaged foods, restaurants and dairy products.
Good News #3 – Chemotherapy and radiation were mentioned in passing at my last visit, but not something I personally want to experience. I was assured this is only an option if the lump cannot be surgically removed.
Good News #4 – If you go to the Bellevue office, there is free parking. (Hey, at a $5 minimum each visit, it adds up!)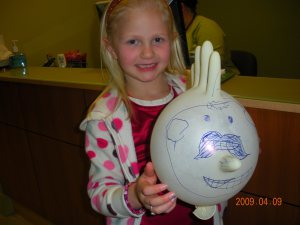 Beka's little man. Isn't he cute? She accidentally drew his mouth above his big nose, so we turned it into a mustache. She likes his mohawk.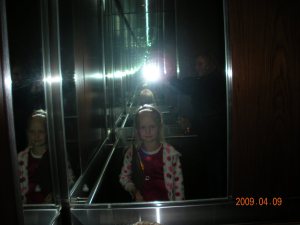 She loved the mirrored elevator.
"Mom, there are hundreds of mes!"
I tried to get a good picture, but haven't learned how to use the programmable mode on my new camera yet. She was a bit stressed that we missed our floor and had to go back up and back down one more time, like we were doing something wrong.
Don't worry.
She'll get used to me. Ya' gotta live on the
edge
….
Many people are asking how we (as a family) are doing as the day of surgery draws closer and closer and closer. We are very thankful to say that we feel
peace
from the Lord. We are rejoicing that it has been confirmed that people are praying for us all across US, and our emails are often forwarded to more people, and many are putting us on their prayer chains. We feel upheld by the faithful prayers of the Christians and warmed by the love of those in our lives.
Phillipians 4:7
which passes all understanding,
will keep your hearts and minds through
Christ Jesus
."
Sometimes people marvel when suffering people have peace, because they are personally distraught concerning that person. It is hard to understand, it passes our human understanding.
But, we can't have the Peace
of
God until we make Peace
with
God.
Romans 5:1 "… being justified by faith, we have
peace with God through our Lord Jesus Christ"
I made peace with the Lord in 1982 when I trusted Christ as my Savior. Now, I have HIS presence in my life, He is keeping my heart and mind. I am blessed to have His peace, you are comforted knowing I have peace as I face surgery and treatment.
Psalm 34:8 "O taste and see that the LORD is good: blessed is the man that trusts in Him."