I noticed this odd assortment of food items when I walked into the kitchen, after the rest of the family had eaten gourmet mac-n-cheese for lunch. Gourmet means somebody other than me made lunch. My Amazing Grace was just ready to devour her own gourmet lunch. I shuddered a little when I spotted the can of peas and carrots, something I would NEVER buy nor eat. She enthusiastically explained her creation.
"Mom, I had this dream I was cooking and when I woke up I was just CRAAAAAAAAVING this meal. I dreamed all the ingredients, so all day I could hardly wait to make this meal because I was CRAAAAAAAVING it."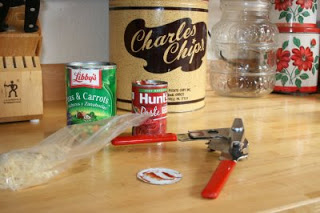 She listed the ingredients:
whole wheat pasta, a can or peas and carrots, tomato paste, seasonings and Parmesan cheese.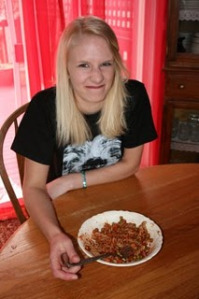 After a few bites, she realized her dream recipe should not be judged by the color of the ingredients, but by the contents' character.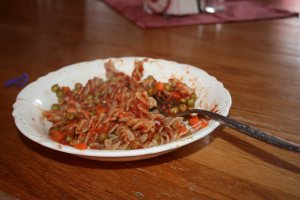 EEWWWWWW! I double-dog dare you to take a bite!!!!!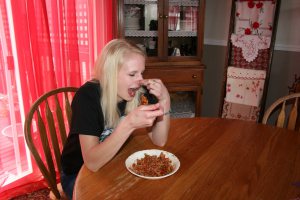 Heroically, she tried to down a few bites.