When the water calls, you answer.
Water. This simple compound makes up 71% of the world and 60% of our body, but its primary function in this world is to soothe our souls.
And my soul needed soothing.
My mountain of errands and obligations were complicated by forgetfulness and a misbehaving computer. I was in the final throes of preparation to speak at the Olympic Peninsula Christian Writers Conference.
I've learned that when I'm going to speak at a writers conference about social media, blogging, and Jesus, everything will go wrong. In the final week before any conference, my technology always throws a hissy fit.
Always.
My family thinks it is tragically hysterical that the woman who encourages people to embrace social media and technology is the woman who constantly has breakdowns, shutdowns, and letdowns.
I expect problems with my computer, printer, and PowerPoint projector, along with anything else that my tiny hands touch.
This week was no exception. My computer wouldn't save because my storage was full. The printer in our apartment's office was out of color cartridges. I emailed my presentation so they could print it for me and it didn't arrive. Until the next day.
I saved my presentation to my desktop and received an error message.
These are simple functions that I've successfully completed daily or weekly for the better part of two decades.
And the forgetfulness? I'd driven a day on empty before I remembered to buy gas. I returned to the store where I'd shopped yesterday to purchase the same items I'd picked out but forgot my wallet.
As I mentally tallied all the struggles and reminded myself, "You've learned to expect this opposition. Now overcome it!"
When I came out of the store with two full bags, all had changed.
The sun decided to appear and the coat I'd dug from the back of the closet was no longer needed.
I was overcome with a desire to see the water glistening beneath the sun that rarely shines in Seattle. Reasoning that I hadn't eaten lunch and still had to finish packing was unreasonable.
The sun was shining and the water beckoned.
A parking place near the waterfront was open, a small miracle when living in a metropolis. Just as I pulled in a song by Tenth Avenue North came on. Like a good child of the 80's, I cranked it to hear them promise me that the Lord's hands are holding me.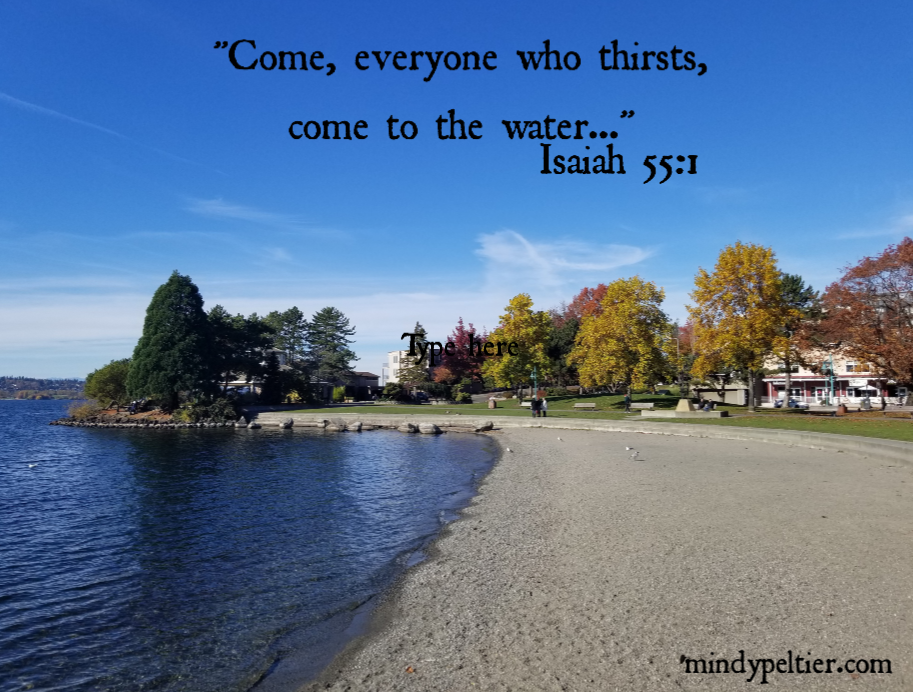 The call to the water wasn't just a physical calling, it was a spiritual calling.
The Lake Washington beach was nearly empty. The trees in Washington are slow to part with their resplendent color, so they had a nearly full canopy with matching carpet below.
Every bench was occupied by older gentlemen gazing at the water in reflective silence. I don't know their stories, but I write them in my imagination.
The gentle wave lullaby is staccatoed with the occasional cries of geese and a few children.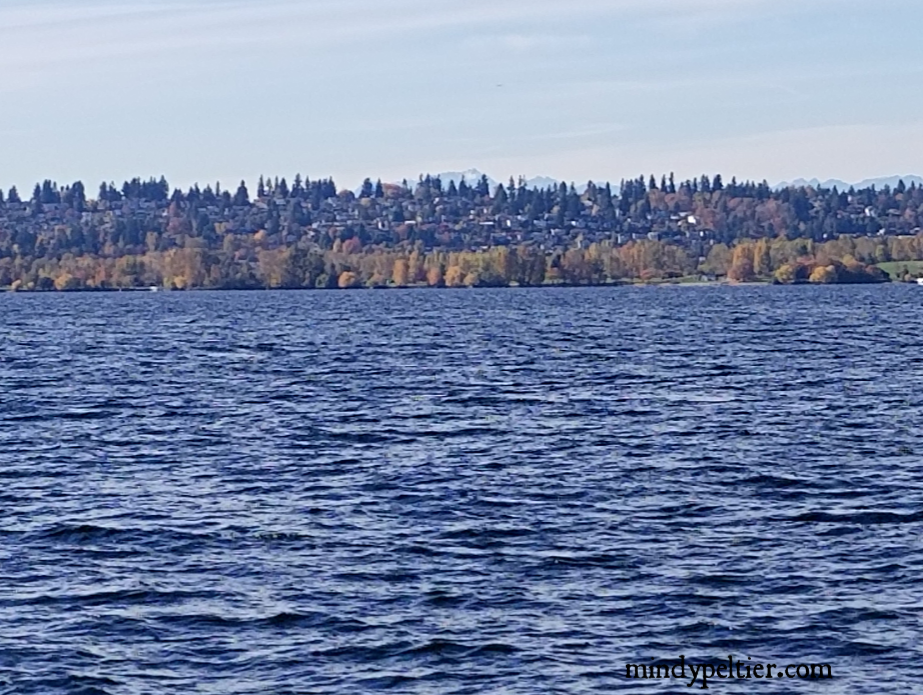 The Cascade Mountains peek above the shoreline patchworked with expensive homes and trees, their snowy peaks remind us of the season ahead.
I grabbed a notebook and my favorite pen and released the words birthed with the desire to slow down and enjoy the beauty.
The Lord's invitation echoed with each wave that kissed the shore.
"Come to the water."
Isaiah 55:1
He promises to quench our thirst.
Our thirst is our longings. We want peace where there's chaos, love where there's brokenness, and faith where there's doubt.
The Lord never says, "Hey, I told you to slow down."
Or, "I knew that would happen if you did that."
And He never, ever says, "You got what you deserved."
The Lord says, "Come."
His arms are open and his heart is filled with love. Our Heavenly Father wants us to crawl into His lap and be soothed.
The water called me.
I answered.
And I was satisfied.
And you, my friend, what brings you peace? I'd love to hear from you.
* * *
2019 OLYMPIC PENINSULA
CHRISTIAN WRITERS CONFERENCE
November 2, 2019
Dungeness Community Church
45 Eberle Lane, Sequim WA
Register Here