Setting up the nativity sets at Christmas always bothers me, just a little. Most come with three Wise Men, two little sheep and one shepherd leaning on a staff. (didja' sing that to yourself?)
I want lotsa' shepherds and lotsa' sheep because they were part of that special party in the barn.
Luke 2
15 So it was, when the angels had gone away from them into heaven, that the shepherds said to one another, "Let us now go to Bethlehem and see this thing that has come to pass, which the Lord has made known to us." 16 And they came with haste and found Mary and Joseph, and the Babe lying in a manger. 17 Now when they had seen Him, they made widely[d] known the saying which was told them concerning this Child. 18 And all those who heard it marveled at those things which were told them by the shepherds.
The Wise Men weren't there yet. They don't arrive until the Lord Jesus is a toddler.  We really don't know if there were three of them, if they were traveling by camel or donkey or walking. 
We  know they were following The Star.
We know they were willing to leave their homes and seek after the One sent from Heaven.
We don't  know if they truly believed in the Savior and Messiah as they set out on their journey, or if they came to faith along the way as they read Old Testament prophecies and marveled over the words of the Lord. 
We know when they saw Him, the Christ child, they worshipped.
Matthew 2
11 And when they were come into the house, they saw the young child with Mary his mother, and fell down, and worshipped him: and when they had opened their treasures, they presented unto him gifts; gold, and frankincense and myrrh.
This year, instead of staging all the Wise Men far away from the manger as if they were still traveling, I  staged my own encouragement.
This is in my refinished foyer from the beginning of December.
Notice the Wise Men on the bottom shelf are are crouching towards am empty spot?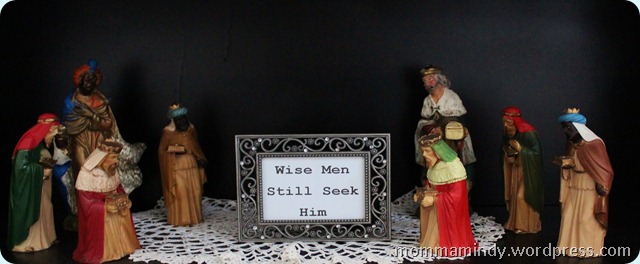 I just needed to frame the message these men preach with their diligence in seeking after the Savior.
Lamentations 3:25
The LORD is good to those who wait for Him, To the soul who seeks Him.
Luke 11:10
For everyone who asks receives, and he who seeks finds.
Psalm 22:26
Those who seek Him will praise the LORD. Let your heart live forever!

May we all be like the Wise Men in 2013 ~
Seek Him…
Find Him…
Praise and Worship Him…