When I think of Vietnam Vets, I picture gnarly men with ravaged bodies and wounded souls who wrongfully weren't accepted back into our society as heroes like our beloved WWII vets. They fought an ugly battle overseas, but arrived home to find a new war on their hands. They were still the enemy, now to their own beloved country.
It's one of those time periods in American history that still causes me personal outrage.
The vets attempted to get medical help, jobs, and an education while battling personal demons and war protesters. The  war in America was as devastating as the one they'd just fought.  The American government made them go and the American public wouldn't accept them back.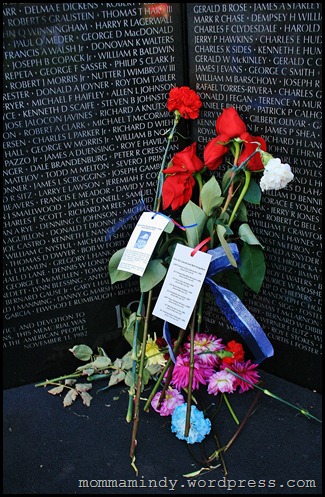 In looking through old pics when the Vietnam Traveling Wall (blogged here)  I realized like most Americans, I was leaving out the American women who served, suffered and/or died in Vietnam. I took pictures of the flowers and of some of the tags, but never revisited these memories.
Until now.
There are names of eight women chiseled into the black granite of the Vietnam Veterans Memorial, also referred to as The Wall.
In all 265,000 women volunteered;  10,000 of those women served within combat.
1LT Sharon Ann Lane, USA was a nurse who died when her hospital was hit by a Soviet rocket.
On his website, Gary Jacobson shares his personal experience of being injured during Vietnam War. "Sharon Ann Lane truly epitomized that unselfish healing I received. She tenderly administered to the slings and arrows of that most terrible beast called war. She gave of her very essence in this greatest act of love, meting out her healing to nourish and restore not only abundant physical wounds, but also by her goodness assuaging insidious mental afflictions that a treacherous war implants in the minds of "boys next door."
A further biography is here. A blog post about Lane is here.
I didn't have pictures from the Vietnam Traveling Wall memorial of the other seven, but they are listed below.  Click on each picture to read more about their lives and their contributions.
The first woman POW was a missionary doctor.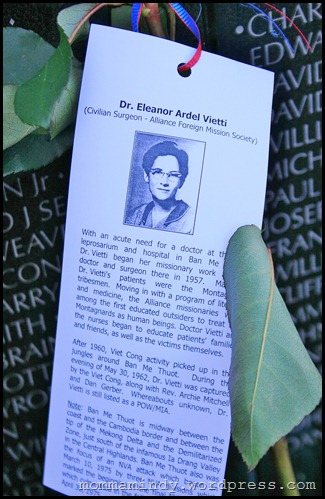 Dr. Vietti was a Christian Missionary Alliance medical missionary who died doing what she wanted to do from the time she was a child growing up in Bogota, Columbia, the daughter of a traveling geologist.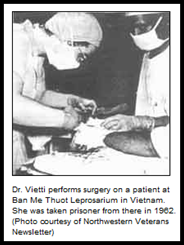 Dr. Vietti is shown during surgery.
(All images lead to informative websites.  I encourage you to grab some Kleenex and click on each icon.Take your time.)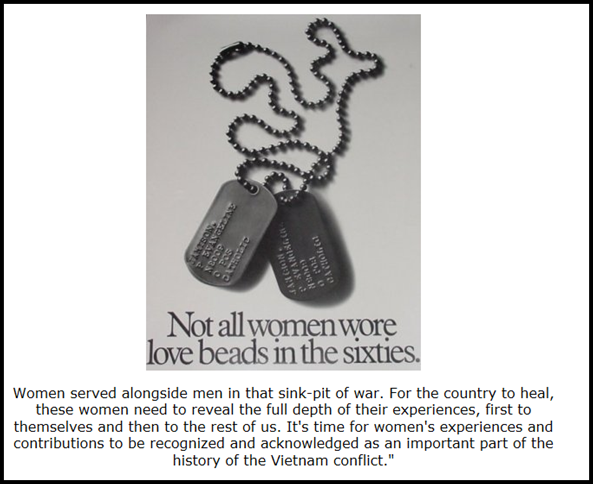 From a page called Many Women Served.   Follow various links to see the ways different women served.
This memorial was dedicated November 11, 1993
Those that were in Vietnam speak more powerfully than I can. Read more by clicking the links below:
Again, all images below are hyperlinks to read more about the men and  women who served during the Vietnam War. Honor them by  keeping their stories alive.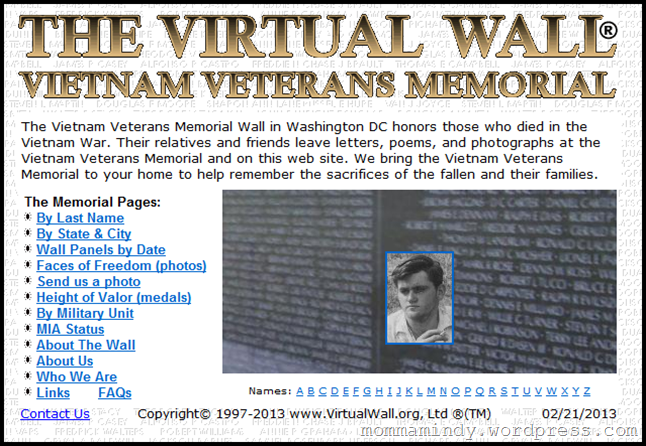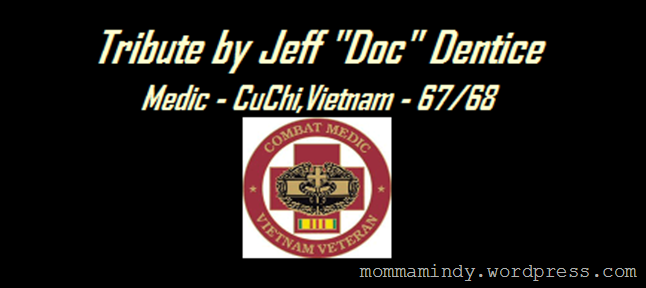 The women from Vietnam who returned ended up missing in action in America. They were not welcomed home, nor were they hailed as heroes.

They rarely told anybody they served in Vietnam. Many didn't know they were entitled to GI education benefits. Many gave birth to children with health issues.
They hid in the shadows of their own horrific memories and kept their pain to themselves , while never forgetting the permanent death stench in their nostrils, the terrified cries of the dying, and the heaps of mutilated flesh.
America makes mistakes. But I believe we are different as a nation even in our failures. When our errors are admitted and discovered, we try to rectify the situation. We can't undo the damage, but maybe in the future, we will be quicker to see our errors and quicker to relieve the suffering of those who suffered for us.
Our diligence and determination in honoring the women of Vietnam should match  the diligence and determination in which they served.
We must assure these women of Vietnam –