I try to stay in tune with the social media trends, but get a little lost.  The world invented itself around me and I don't see the landscape I grew up in of the 70's,  console television sets with rabbit ears and 20 pound rotary phones with 20 foot curly cords.  I'm blessed to have friends that are not only great writers, they navigate the world of social media so well, they  make it recognizable and useful to me.
Today's Cool Tool is brought to you by Kim, a friend with great talent and abilities.  She brings calm to my frantic, wings to my ideas and kindling to my flames of inspiration. After reading her post, I hope you have the same head-slapping reaction I did, "DUH? It's that easy?!?" 

Kim Vandel is a writer and voracious reader from the Seattle suburbs, and she's the Public Relations Coordinator for Northwest Christian Writers Association. She recently became a finalist in the 2013 Cascades Writing Contest in the Unpublished Young Adult fiction category. You can find her at kimvandel.com.
For writers, Pinterest is more than a virtual corkboard for recipes and DIY projects. It's a fantastic way to gather research, collect writing ideas, and find inspiration for both writing and life. If you haven't tried the Pin It Bookmarklet yet, then get ready to meet your new best friend. This handy little tool lets you pin from almost anywhere you go on the web, so no more despair when you can't find a "Pin it" button on the page you've fallen in love with. You don't have to bookmark a bunch of pages, and you don't have to worry about "stealing" pictures or trying to remember where you saw the article you need. The bookmarklet automatically links your pin to the website where you found it.
To get started, go to the Pinterest Goodies page and scroll down to "The Pin It Button." You'll have two options. If you're using Google Chrome, select install now.
For other web browsers, select the "Pinterest Bookmarklet" link.
Drag the red "Pin It" button to your toolbar to install the bookmarklet.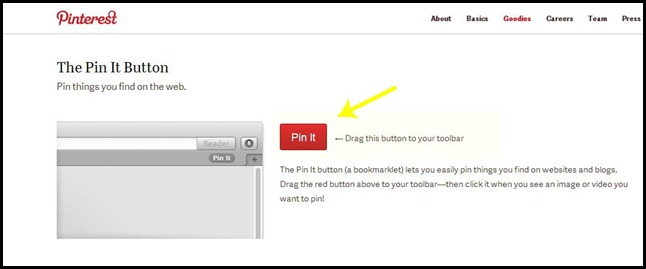 When you get done, you'll see the red Pinterest icon on your toolbar. That means you're ready to pin!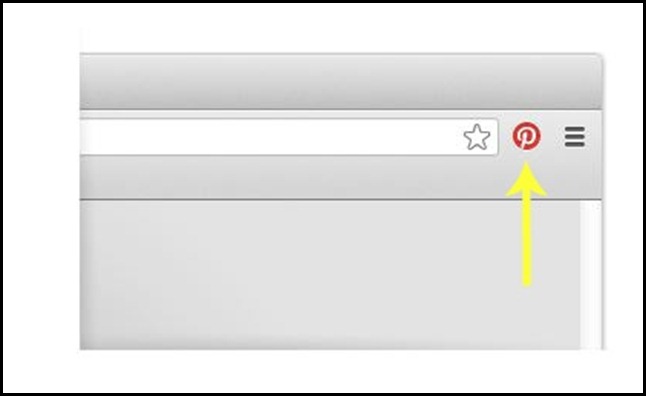 I'll give you an example of how it works. I found a picture I wanted to add to my Visual Writing Prompts board, so I clicked on the icon. It gave me several picture options from the page. The "Pin it" button appeared when my cursor hovered over the picture.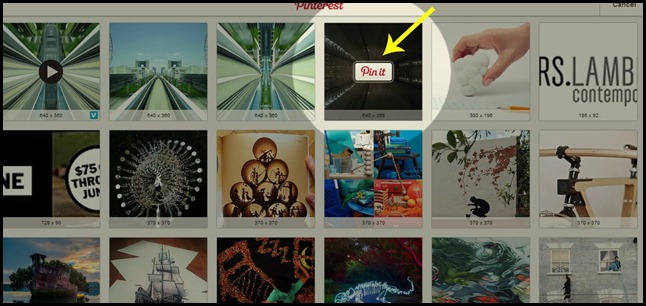 When I clicked on the button, a window popped up, and I was able to choose which board I wanted to pin the picture to. I also had the option of editing the description.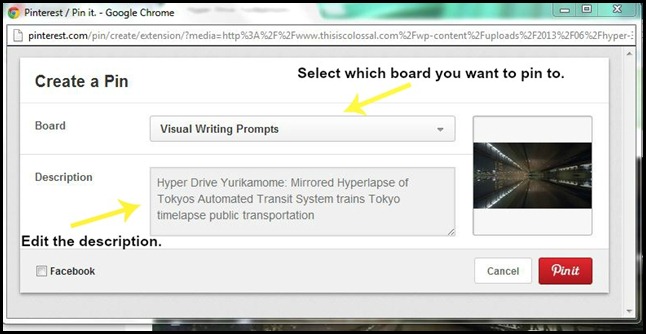 I then clicked on the red "Pin it" button, and the picture was added to my board with a link back to the website.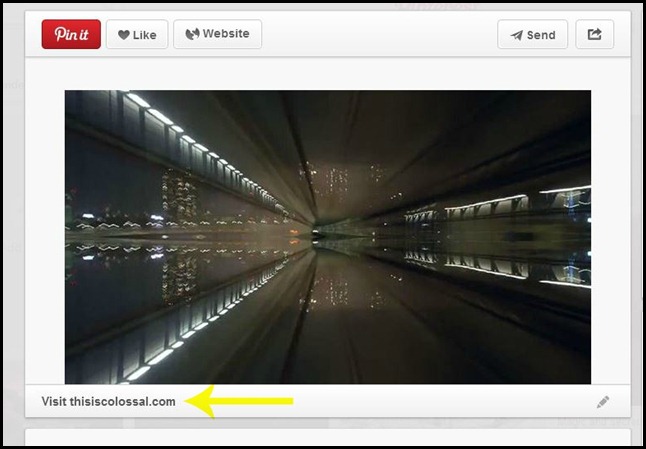 My Visual Writing Prompts board is one of my favorites. I'm a speculative writer (fantasy, science fiction, etc) and some pictures instantly spark a story idea for me. Other pictures, like the one in my example, provide inspiration for an idea I already have. It helps me visualize the futuristic world I want to create, and I'll be able to come back to the image when it's time to describe the setting. Studying the details—the sense of speed, the play of light against dark—will allow me to create a vivid picture in the reader's imagination.
Maybe you don't need to build a futuristic story world. That's okay. (I won't hold it against you.) Whatever you write—fiction or non-fiction, blog articles or epic novels—the Pin It Bookmarklet will give you the freedom to roam the web and gather inspiration and ideas wherever you find them. So get pinning already!