Every six months I have a blood draw to check the status of my  cancer.  Once or twice a year I have a  sonogram to measure the tiny papillary thyroid tumors.
My second surgery to remove thyroid tumors was April 2009.  Doc took out two, three grew back in their place. My doctors ruled out another surgery or radioactive iodine treatment and instead increased my thyroid hormone to suppress Thyroid Stimulating Hormone (TSH) in my body.  Any thyroid cell I have would be cancerous.  If the cells are stimulated by hormone, they grow.   I've been hyperthyroid for four years, hoping to starve the tumors to death.
My 6 month blood draws and sonograms  have shown progress.  I blogged about Teeny Weeny Tumors in December 2012.  The tumors were smaller and not giving off thyroid antibodies.
The reality is, there are no side effects from the cancer.  The tumors live quietly, minding their own business. The side effects from the hyperthyroidism are the challenge, and  greatly increased after recently being forced to switch thyroid hormone.
I'd been on Levoxyl  for 9 years, until it was  recently recalled and won't be available again until late 2014. Doctors and pharmacists strongly warn anybody on artificial thyroid hormone to never, ever, ever, ever switch brands.
Now I know why.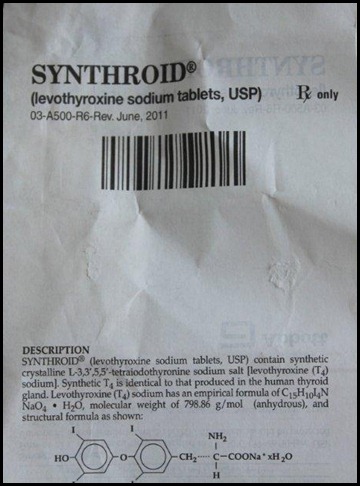 I switched to Synthroid.
This is the paperwork that came with the new med, listing all side effects, molecular structure and warnings. Look like something you wanna' take? Me neither. Only I have this missing thyroid gland, so need artificial thyroid hormone in my body.
My symptoms increased greatly. Night sweats, sleeplessness. I can be tired all day, but wide awake during the night. I sleep about 5 hours, on a good night up to 7. Agitation.  Jumpy.  My kids have learned over the years to make a lot of noise when they walk up behind me.
At my recent endocrinologist's visit to discuss the results of the recent blood work I described my adjustment issues with the new hormone. In conversation I used the phrase "my cancer."
"You don't have cancer."
I looked at my doc in surprise.  After all, it's been a ten year battle. She looked at me in surprise, as if I should have known.  I tried to remember what she said at our past visit.  Pretty sure I would have remembered being told I was cancer free.
"There are no thyroid antibodies and no thyroglobulin in the blood.  I'd say your cancer is gone."
I should have been jumping.  I should have been overcome with joy. I was stunned. I was surprised she brought it up almost as if correcting me. To be cancer-free after ten years could have been announced with cake, ice-cream balloons and banners, not an afterthought conversation.
I almost doubted the news. Besides, my past two "cancer-free" times have only lasted a few months, so I was hesitant to get too excited.
It took me a few days to grasp in my medicated brain this is  GOOD NEWS! It took me even longer to fully grasp that the symptoms I'd been complaining about resulted in keeping the tumors from producing antibodies. It worked.
I look at those nasty pills a little differently. Would you rather have trouble sleeping or have cancer?  Yea, me too.
But, still, I argue with myself, it could come back.  It could come back in another form of cancer.  The artificial thyroid hormone could cause  bone problems as it depletes calcium from my body or cause heart issues.  If I look forward, I can cause myself undue worry and prove I don't trust the Lord for His future plans.
If I look backwards at the ten year journey, I can remind myself of the hardships on my body and my family and prove I don't trust the Lord for His past plans.
So, as many of us have learned through times of trials, we neither look ahead or back, we walk in the moment and look up. We may not understand His plans, but we are always in His presence.
And today, as I walk with the One who is with me, strengthens me, helps me and upholds me, I don't have cancer!!!
If you would like to read about the time I found the word CANCER in the Bible, read  Do YOU Have Cancer?
The Gifts of Cancer was written after being cared for by an encouraging, caring nurse named Judy.