Over the holidays I was having some troubles.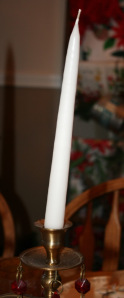 My candles were all crooked,
leaning over like an ol' woman.
They looked ridiculous and I was afraid they would spill wax
on the gorgeous table-runner my little sister quilted for me.
Yea, she's in her 40's, but she's still little to me.
I found this gem, some kinda' plumber's tape,
 in the junk drawer.
I hope we don't get a leak in our pipes soon,
because I used most of it on the candles.
(No more getting frustrated that hubby puts his stuff
in my kitchen junk drawer.)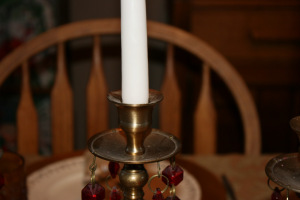 Crooked things made straight.
There's something even better for making
crooked things straight-
the Lord God,
our Creator,
our Master,
our Savior.
He turns sinners into saints,
rascals into redeemed, and
children of darkness into children of light.
He seeks the lost,
He strengthens the weak,
He seals the saved.
…"The crooked places shall be made straight
And the rough places smooth;
The glory of the LORD shall be revealed…"
He not only makes the crooked path straight,

He knows our path,
He goes before us,
He walks beside us,
He lights the path,
He picks us up when we fall.
How has the Lord Jesus straightened your crooked path?