I love decorating for Christmas.
It feels wonderful to add decorations, greenery and lights,
to make my home sparkle and glow for the holidays weeks.
I don't love un-decorating for Christmas.
It feels a little frustrating to repack decorations, greenery and lights,
and return my home to normal after the holiday weeks.
Last year I did a major re-organization with my Christmas decor.
You know that elusive quest to
and have everything in its place?"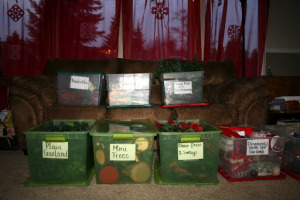 This
system
of new boxes, clearly labeled, worked well.
It was easy to return things where they belonged.
The cards didn't work so well.
They didn't mail themselves,
and are still in the cool box I packed them in.
This year I added another small project to my life as I repacked the boxes.
Fragile things were given their own containers.
I used to just wrap decor in a lot of plastic bags,
but I decided I needed a system that was so organized,
it almost packed itself back up.
Besides, these little flocked trees didn't come out so well this year.
They were kinda crunched.
I used Quaker Oats containers and wrapping paper.
It kinda' bubbled, scrapbook paper probably would have worked better.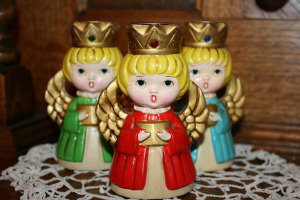 Sets of things were also given their own containers.
I bought these gorgeous babies in the 75% clearance sale
after Christmas sale at a Goodwill.
Next year can't come soon enough to pull out these beauties again!
This box came with some kind of food in it,
and worked perfectly for the angels.
Now, they have their own home.
Many of the nice, sturdy boxes that gifts came in,
were re-purposed for specific decorations.
I didn't decorate all the boxes,
that can always happen later.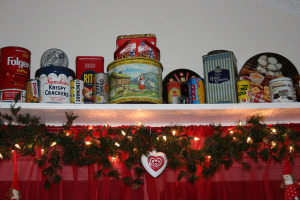 We left up only the greenery and the lights on top of the windows
and the snowflakes on the windows and hanging in the house.
I like to leave up a little cheer throughout the long winter month of January.
We'll wait for better weather to take the outside lights off the house.
For the most part, the symbols of Christmas are packed away,
but there's something I never pack into the attic.
Emmanuel, God with Us,
is still residing in my heart,
as He has since He saved me in October, 1982.
Since the beginning of time,
mankind has made up rituals to try to appease and
seek the presence of the God of Heaven,
reaching up to Him in ways He did not create or condone.
They ignore the fact that He brought Heaven to earth,
through the birth of His Son,
to bring us from earth to Heaven,
through faith in His Son.
It is so simple and so beautiful.
Day by day,
in any season,
in any place,
we celebrate
Emmanuel
still in your home?
**************